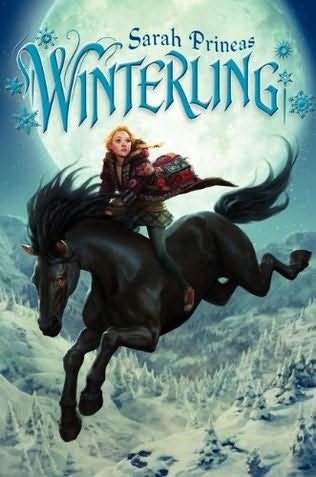 Synopsis:
With her boundless curiosity and spirit, Fer has always felt that she doesn't belong. She hears the call of the wild wood, of the secrets it whispers to her. But when her grandmother reveals clues about the disappearance of her father and his mystical bond to her mother, Fer begins to unlock the secrets about the parents she never knew. Led to a reflecting pool that uncovers the Way, Fer finds an enchanting dangerous land. In this place cloaked in wonder, where pucks transform from boys to horses, Fer feels a strange magical attachment. But with her mother gone, everything has spun out of order and evil has imprisoned the place in ice. Now it is up to Fer to face down the power Mor, who has cruelly taken over this world and its people, and discover the legacy she carries within.
---
I first fell in love with Sarah's writing in her trilogy, "The Magic Thief". Of course, I assumed Winterling would be the first in another series, but it is a stand alone novel. Perhaps in part because of this, I found Winterling lacking.
Overall, this is a good read. Sarah delves deeply in fantasy mode when Fer leaves our modern and familiar world to cross the Way. Humans parading around as beasts, questions if spoken three times forces answers from others, crows that spy for the Mor – it is an imaginatively rich, but winter-cold landscape we are in. The pace is perfect – not too slow, not too fast as we stumble, fly, run and creep along with our main girl, Fer.
Other positives were the realistic relationship that Fer has with her Grand-Jane. There is love, there is an overpowering need to protect to the point that Fer rebels. There is the lovely handmade patchwork quilted jacket that Grand-Jane made for Fer with little burlap bags of herb mixtures in the pockets that serve as protection for Fer. (I wouldn't mind having a jacket like that myself!) There is a wonderful set of twins who serve as minor characters that leap from the page as real as real can be. There is mystery, there is sickness and healing, there is strength and determination and, as in all the books I love, a happy ending.
BUT, where Winterling falls is a character called, the Mor.  This is a major thorn in my thumb because she is the biggest baddest character in the whole book.
As a writer, you simply cannot mess up your evil nemesis. The Mor is presented as cruel – she bounds people to her, forcing them to serve, she has done some major bad stuff to gain power over all the lands such as the ability to control when winter will turn into spring. So why would this cruel, calculating creature be nice to Fer. The Mor wants Fer's power very badly. Given her past, I would have assumed the Mor would just tie up the girl and take it by force from her. But the Mor tries to make Fer her ally, her second in command, her bad buddy, if you will, and I felt the Mor's actions vs personality did not match in any way and that is one of my deadly deviations that can ruin an entire novel.
Granted, I'm not a psychologist but a character made of pure vinegar shouldn't be allowed to produce honey.
As I said above, if you like a fantasy setting, this is a good book for you. If you like a female role model that is true to herself – even when under pressure, this is a good book for you. Winterling is a normal, good book. It's just sadly not a great book.
Miss Gevious

Fri, 07/13/2012 - 15:38