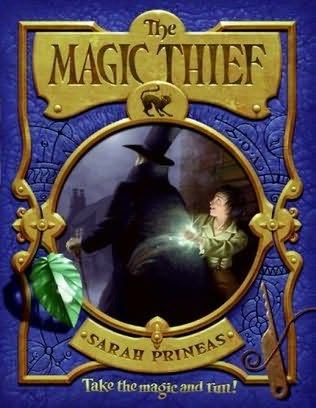 Synopsis:
BOOK ONE: MAGIC THIEF SERIES. In a city that runs on a dwindling supply of magic, a young boy is drawn into a life of wizardry and adventure. Conn should have dropped dead the day he picked Nevery's pocket and touched the wizard's locus magicalicus, a stone used to focus magic and work spells. But for some reason he did not. Nevery finds that interesting, and he takes Conn as his apprentice on the provision that the boy find a locus stone of his own. But Conn has little time to search for his stone between wizard lessons and helping Nevery discover who - or what - is stealing the city of Wellmet's magic.
---
I'm always looking for books that my son can sink his 12 year old teeth into but I found my own choppers greedily eating up every page of this book and then I immediately plowed through the next two in the series. Isn't it great when you can share books like this with your children? It creates a bond unlike parent – more like friends. With children on the cusp of teenage-horror-hormones anytime I can foster a friendship with my children I'm game!
But I digress...this is Sarah Prineas's first published book – and series and I can only say, KEEP WRITING WOMAN! 
This book is a prime example of why I love books over movies – you get to sit in the midst of a character's grey matter and view the world through their eyes and live their adventures. And Conn is a great character to live inside of. Due to his life on the streets he has a maturity that surpasses his youthful age, he is super cautious about what he says about himself and from obscurity he's been singled out by the magic as being special – yet despite the obvious connection, Conn is overlooked by most because of his age and appearance. What youth doesn't feel invisible at times in an adult-run world?
But though Conn is looked down upon, is an enemy of the guards of the city, is wanted by the crime Underlord of the city, dang it, the kid is special and the magic has chosen him for a special destiny despite them all.
Great, great storytelling. Great character-driven plot lines and the fantastical city with its mix of magic and politics is kept uncluttered enough to not become laboriously complex or educational. I loved this story, my son loved this story and I made my library buy the set. Viva la Magic Thief!
As an extra to this review, I sent a note to author, Sarah Prineas that I had reviewed her books on my blog and put an article in our local Springwater News (and totally loved this series).  This was her reply:
Hi Ginger--
Thanks so much for your email!! I'm so glad you enjoyed the book and gave it such a lovely review in both places. Readers like you are the ones who make it all worth it. What a great blog, too.
Cheers!
SarahP
Miss Gevious

Wed, 07/11/2012 - 19:30