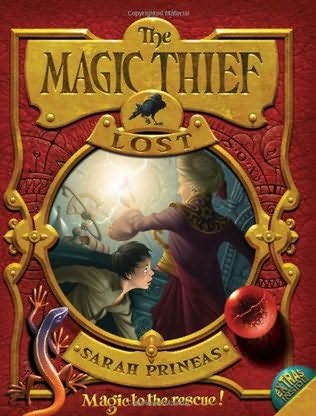 Publisher:
Harper Trophy (Harper Collins), 2009
Synopsis:
BOOK TWO: THE MAGIC THIEF SERIES. Conn may only be a wizard's apprentice, but even he knows it's dangerous to play with fire . . . especially around magic. His master, Nevery, warns him that it could all blow up in his face. Besides, they have bigger problems to deal with. There is evil afoot in the city of Wellmet, an evil that isn't human. But Conn is drawn to the murmurs he hears every time he sets off an explosion - something is trying to talk to him, to warn him. When none of the wizards listen, Conn takes matters into his own hands. His quest to protect everything he loves brings him face-to-face with a powerful sorcerer-king and a treachery beyond even his vivid imagination.
---
I'm always cautious with a series because the first book often fires out at us with a BANG! Then the second and third can peter out to a mere whimper and nothing, my friends, is worse than a series that gets steadily forgettable.
But this is NOT that kind of series. YIPPEE! Sarah brings us another firecracker hit with her second instalment in the Magic Thief series.
Just like the first, our main character, Conn, reached out from the pages to grab me by the ears - not even sound existed for me outside of racing through the explosive adventure with Conn until the final page.
This book had a darker undertone than the first simply because the plot showed us what could happen if strong magic goes slightly askew. Conn meets another individual specially chosen by his city's magic, just like Conn was by the Wellmet magic. But this city's magic is hungry, and twisted from past neglect.
Sarah is consistent in her ability to write great plotlines, character relationships and all within the framework of a believable magical setting.
I was so pleased to love this second book as much as the first – and more importantly, so did my son. Top notch marks for The Magic Thief: Lost.
Miss Gevious

Wed, 07/11/2012 - 19:53