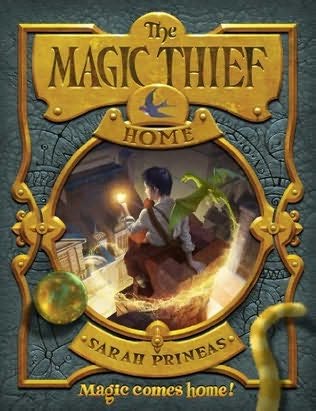 Synopsis:
BOOK FOUR: THE MAGIC THIEF SERIES. Conn has come a long way since the days when he was a thief and a wizard's apprentice.  He and the dragon Pip have saved the city of Wellmet from doom more than once, and now his best friend.  Duchess Rowan, wants to make him the ducal magister, the city's most important wizard.  But the older wizards don't trust Con...especially now that their locus magicalicus stones are disappearing!  Once a thief, always a thief, they think.
To solve the mystery of the disappearing stones, Conn goes back to his beginnings-gutterboy, chimney sweep, mudlark, and, yes, thief.  It's the only way he can clear his name and find the culprit.  But turning back is not easy, and old enemies don't disappear.  Can Conn pull himself out of the gutter one more time?
---
Oh.  My.  Goodness.  I was beyond thrilled when I saw that Sarah Prineas was writing a fourth book in this super series.  She had written the first three and then veered off for another four book series which, honestly, didn't grip me like The Magic Thief did.  Then, when I saw she was going back to her original series I pre-purchased, Home, right away.  And I'm so glad I did!  Since I'm chatting about her hiatus from Conn and his adventures, let me say Bravo to Sarah as a writer for making this fourth book a seamless continuation for us as readers.  As writers and people we grow over the years and my one worry was that after having taken such a long break, this book might feel different and not as awesome as the first three in the series.  I'm so happy to tell you that book four IS as awesome as the first three and it does feel like coming "home" to the same characters, same streets, same everything and it's all good.
I've loved this series because of the kinship you feel with Conn.  Have you ever been misunderstood?  As a child did adults ever look over your head and talk like you weren't there?  We've all had that in our lives and Conn is the perfectly placed character to be misunderstood, overlooked and easily dismissed.  But he is quick keen, and his quiet manner means he sees and understands much more than anyone around him.  I personally can't quite relate to the quiet manner but I can enjoy living Conn's experience of it!  He's someone you root for and unlike the other characters, we get a full look inside his motivations and pure-hearted actions.  I just love this kid and want to plunk him down at my table and feed him biscuits till he bursts.
What my children love about this series is the adventures and scrapes Conn wedges himself into and the resourcefulness of how he gets himself out of them.  There are coded messages throughout the book as well that end up with pencil mark solutions from my son.  The fantasy aspect is kept simple which is key to keeping places and events something we can relate to easily.
This book isn't too long or too short - pretty darn perfect in that area.  The pacing is consistent with the other three books - again, perfect.  It's an easy perfect rating from me and if Sarah continues with this series they will all be perfectly at home together on my bookshelf.
Miss Gevious

Fri, 09/19/2014 - 10:12