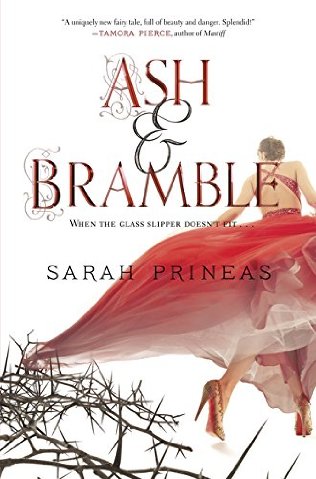 Synopsis:
The tale of Cinderella has been retold countless times. But what you know is not the true story. Sarah Prineas s bold fairy-tale retelling is a dark and captivating world where swords are more fitting than slippers, young shoemakers are just as striking as princes, and a heroine is more than ready to rescue herself before the clock strikes midnight.Pin has no recollection of who she is or how she got to the Godmother s fortress. She only knows that she is a Seamstress, working day in and out to make ball gowns fit for fairy tales. But she longs to forsake her backbreaking servitude and dares to escape with the brave young Shoemaker.Pin isn't free for long before she s captured again and forced to live the new life the Godmother chooses for her a fairy-tale story, complete with a charming prince instead of finding her own happily ever after.When the glass slipper just doesn t fit . . ."
________________________________________________________________________________________________
Ash & Brambles is Sara's first foray into Young Adult Fiction and as a whole, she doesn't do too bad a job of it. She'd previously honed her fantasy writing skills on her Junior Fiction Magic Thief series which I still adore to this day, but I can't say the same for this novel. First, this book is a bit confusing. It starts with a preamble from the Godmother but it is dark and vague and makes you go, Huh? I wasn't a big fan of a complete turnaround in perspective of the sweet, loving, magical Godmother we all know.
After that dark prologue we have a girl who remembers nothing and is in a factory setting with human/animal hybrids. The problem is, everyone around her is confused and remembers nothing ergo we, as readers, are scratching our heads for far too long in this novel. Often, when the major character has some things to figure out, we as readers are given some perspective from other characters in the book, but not this one, and it suffers slightly for it.
I thought Sara did pretty well with her first light romance theme which is woven subtly throughout the story. Our main gal, Pin/Pen is a good role model for young teens with her stubborn nature to stand up for what she intrinsically feels is truth, despite the opposite of the world around her.
With life interrupting frequently, I read this book in mini spurts and wanted badly to finish it to see how things turned out for Pin/Pen and Shoe at the end. When I got there, it was as though nobody was sure if it was done or not. It seems as though there is a happy ending, but Pen says she's not sure they have a future and the next page simply says, "The End?" The almighty dollar is sure to answer that question for us eventually. If this book does well, the answer is yes. As to whether or not I'd continue in the series? Probably not
Miss Gevious

Fri, 10/02/2015 - 13:53