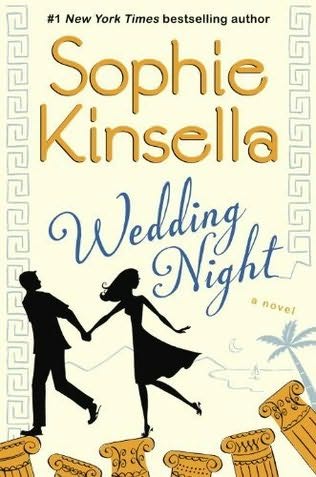 Synopsis:
Lottie is tired of long-term boyfriends who don't want to commit to marriage. When her old boyfriend Ben reappears and reminds her of their pact to get married if they were both still single at thirty, she jumps at the chance. There will be no dates and no engagement - just a straight wedding march to the altar! Next comes the honeymoon on the Greek island where they first met. But not everyone is thrilled with Lottie and Ben's rushed marriage, and family and friends are determined to intervene. Will Lottie and Ben have a wedding night to remember or one to forget?
---
I always look forward to another book by Sophie Kinsella and Wedding Night, though not tops in my rating system, did deliver some very satisfying bursts of laughter from me.  Sophie writes this entire novel from the perspective of Lottie, our honeymooner and her older sister Fliss, who is determined to make sure her little sister's wedding can be legally annulled.  It's a fun and furious kaleidoscope to switch from one sister's perspective to the other as one mishap follows another keeping the newly married couple apart.
Despite the light plotline, there are deeper conflicts taking place in a variety of relationships - not just between the sisters, but also Fliss and her young son Noah, her ex Daniel, and in the men's camp we've got Lorcan and his best friend Ben (Lottie's fresh husband) having both company issues and communication problems.  These relationships were well explored but not so heavily as to bog the lightness of the story down.  Well played, Sophie.
Overall, this is a nice, light read with lots of quirky British humour.  Where this book failed to reach my top rating was language.  I've been testing a few British female comedic writers in an attempt to find an author as fun and fantastic as Sophie Kinsella; very disappointingly, I've dropped them all due to rampant swearing - both inner monologues and character dialogue.  Sophie has previously not had any untoward language in her books, but she goes there in Wedding Night.  I can only think that swearing might make a story feel more realistic, but personally, I find it degrades the characters, the book as a whole and honestly, taints that author for me like a bad aftertaste.
If you can overlook the scattered f bombs, Wedding Night was a highly amusing ride.
Miss Gevious

Wed, 05/08/2013 - 13:10