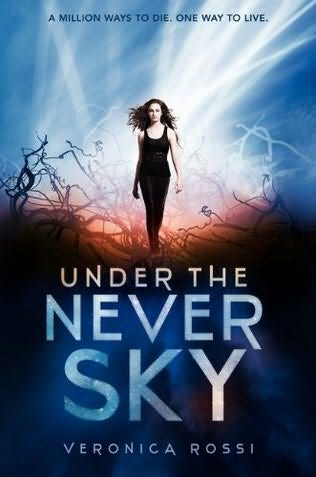 Synopsis:
BOOK ONE: Under the Never Sky series. Since she'd been on the outside, she'd survived an Aether storm, she'd had a knife held to her throat, and she'd seen men murdered. This was worse.
Exiled from her home, the enclosed city of Reverie, Aria knows her chances of surviving in the outer wasteland - known as The Death Shop - are slim. If the cannibals don't get her, the violent, electrified energy storms will. She's been taught that the very air she breathes can kill her. Then Aria meets an Outsider named Perry. He's wild - a savage - and her only hope of staying alive.
A hunter for his tribe in a merciless landscape, Perry views Aria as sheltered and fragile - everything he would expect from a Dweller. But he needs Aria's help too; she alone holds the key to his redemption. Opposites in nearly every way, Aria and Perry must accept each other to survive. Their unlikely alliance forges a bond that will determine the fate of all who live under the never sky.
________________________________________________________________________________________________
This book has a lot going for it. I like how Young Adult dystopia books are finding pockets without super violent, guns roaring, blood and guts flying. Those violent swings had made me leave great authors like Marie Lu and Ally Condie behind. Under the Never Sky is dystopia - but despite the dire synopsis about cannibals, it's gun free and that gives it a prehistoric feel despite the advanced technology of the Dwellers. It's a great contrast for us as readers to go from one environment to the other, and watch the struggle of Aria to adapt.
Another benefit of the environment is the way it's genetically affected the savages in a way that's enhanced certain abilities. This brought in a paranormal slant to our characters that was fun to find under the hidden rock of their normal appearance.
There is fast-paced tension when Aria, Perry, Roar and Cinder are being chased quite literally, for their souls but what disappointed me most in this book was the promised "unforgettable romance". Um, it was sadly forgettable. In fact, it was flat as a crepe. In an otherwise good book, the romance felt contrived which is a major no no for me.
Miss Gevious

Tue, 01/20/2015 - 16:24