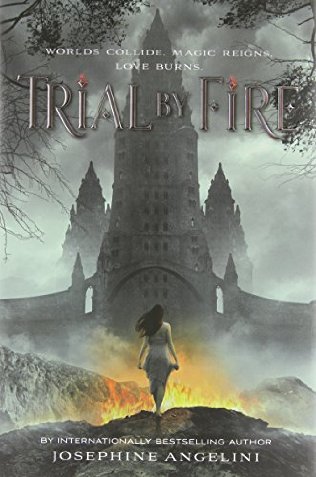 Synopsis:
This world is trying to kill Lily Proctor. Her life-threatening allergies make it increasingly difficult to live a normal life, and after a completely humiliating incident ruins her first (and perhaps only) real party, she's ready to disappear.
"Come and be the most powerful person in the world."
Suddenly, Lily finds herself in a different Salem. One overrun with horrifying creatures and ruled by powerful women--including Lillian, this world's version of Lily.
"It will be terrifying. It was for me."
What made Lily weak at home, makes her extraordinary here. It also puts her in terrible danger. Faced with new responsibilities she can barely understand and a love she never expected, Lily is left with one question: How can she be the savior of this world when she is literally her own worst enemy?
_________________________________________________________________________________________________
This book starts off like a cannon. Things take place rapidly and leave you turning pages to see what crazy turn the adventure will take next. Once Lily settles in, the pace slows considerably and we've got time to adjust to the new world she finds herself in. The story never recaptures that exciting first race, but by then, we've developed interest in the romance between Rowan and Lilly to keep us wondering what will happen next.
The parallel world that Lily finds herself in is a difficult one to pinpoint time wise for us. It is historical in it's primitive way that people live in the wild woods, small population and such. But it is then portrayed as being a hundred years ahead of us in time as though these two worlds split during the Industrial Age and we've shifted over to this second one that has a different environment, wild life and government structure.
It was an interesting read and one I wanted to love, but at it's closure I can't say I was gushing with enthusiasm to get my hands on the second book coming out this fall. First books in series have the tough job of setting up the world for us, getting us settled in, accommodated and then focused on the characters which are the real gold in any series. Ironically enough, we become accustomed to this parallel world only to be transported away from it on the final pages so the next book will have the same job of needing to orient us all over again.
As a parent of a pre-teen and young teen daughters, I find myself a bit reluctant to pass this book on to them. The reason is found in a blatant betrayal by Lily's boyfriend in the opening chapters when she finds him fully entangled with another girl in a small bathroom. The general consensus is that this behavior is 'normal' for him and she should have known this about him. The second doubting twinge comes in the new world that Lily lands in. They make fun of her for not wanting to change in front of everyone or have a bath in front of someone. It just struck a chord in me as a mother, most likely due to the generation gap, that makes me think my daughters need a couple more years before reading this.
Miss Gevious

Fri, 03/20/2015 - 21:42