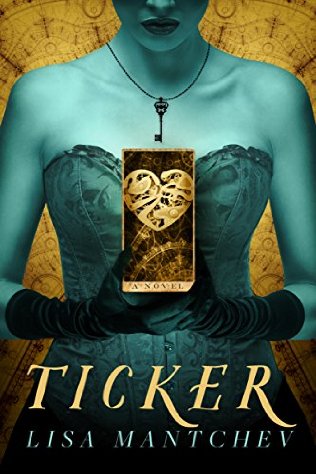 Synopsis:
A girl with a clockwork heart makes every second count.When Penny Farthing nearly died, the brilliant surgeon Calvin Warwick managed to implant a brass "Ticker," transforming her into "the first of the Augmented!" But soon it was discovered that Warwick kidnapped and killed dozens of people striving to perfect another Ticker for Penny.
The last day of Warwick's trial, the Farthing factory is bombed, Warwick disappears, and Penny and her brother, Nic, receive a ransom demand for all of their Augmentation notes if they want to see their parents again. Who is trying to stop their work? Or to control it? Or is the motive more sinister? Determined to solve the mystery and reunite their family, the Farthings recruit their closest friends: fiery baker Violet Nesselrode and gentleman-about-town Sebastian Stirling. Unexpectedly leading the charge is Marcus Kingsley, the young army general who has his own reasons for wanting to lift the veil between this world and the next. Wagers are placed, friends are lost, romance stages an ambush, and time is running out for the girl with the clockwork heart.
________________________________________________________________________________________________
This is a humdinger of a book and I loved every page it offered! First, praise is due to the cover of this book which first drew my attention. I've said it before, I'll say it again, Steampunk is quickly becoming a dominant genre in both Young Adult and Adult fiction novels. Huzzah!
I don't often give out a perfect rating unless I'm adding it to my own personal bookshelves at home. Being a librarian, I can take a book out and love it, but then it gets re-shelved and off it goes. When I'm adding it to my own shelf this indicates I could easily re-read and love this novel all over again. Ticker falls into that "I could love it all over again' category for me.
The romance is pitch perfect with some great catty dialogue to begin with. The characters all hold their own, including the minor ones. The setting is steampunk's familiar Victorian era and the mystery plot is well crafted with just the right amount of twistyness to it. My daughter found the fantastical machinery a bit hard to understand at first, but that's steampunk for you. Each author has their own ideas of technology and their labels. You just have to glean that bit of understanding without actually seeing the devices and move on. They are a colourful side show, not the main event.
This book was fun, the pacing and adventure mixing well with the progress of the relationships and who doesn't love a heart-broken insane doctor as the nemesis? Even he is given a sympathetic light given his origins of madness.
The only true problem I have with this novel is that the author has no plans to turn it into a series. She creates a Steampunk Scooby-Doo team that meshes well, then calls it a done deal? Huh. Perhaps her tune might change if readers ask for more. I'm certainly one of those!
Miss Gevious

Sun, 05/17/2015 - 13:25