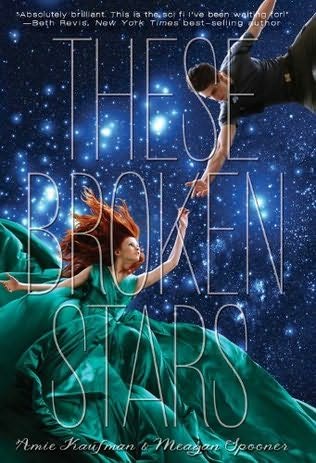 Synopsis:
BOOK ONE: STARBOUND TRILOGY. It's a night like any other on board the Icarus. Then, catastrophe strikes: the massive luxury spaceliner is yanked out of hyperspace and plummets into the nearest planet. Lilac LaRoux and Tarver Merendsen survive. And they seem to be alone.
Lilac is the daughter of the richest man in the universe. Tarver comes from nothing, a young war hero who learned long ago that girls like Lilac are more trouble than they're worth. But with only each other to rely on, Lilac and Tarver must work together, making a tortuous journey across the eerie, deserted terrain to seek help.
Then, against all odds, Lilac and Tarver find a strange blessing in the tragedy that has thrown them into each other's arms. Without the hope of a future together in their own world, they begin to wonder-would they be better off staying here forever?
Everything changes when they uncover the truth behind the chilling whispers that haunt their every step. Lilac and Tarver may find a way off this planet. But they won't be the same people who landed on it.
Have you ever made a spectacular first impression? Note I used the word spectacular, not good, but spectacular. 10 years ago I remember meeting my sister-in-law's mother. I brought my young children up to visit with my parents and my brother, his wife and her mother were there as well. I'd had a bright idea that morning before we came. My son has a peanut allergy and two of his Epipens had expired. My great idea was that Mom and I could use an orange and get some practise with the old Epipens in the event we ever needed to use them on my son. A good idea, right? Right. My thumb was over the far end to really make sure I jabbed it hard enough to activate the needle. I drew my arm back and jammed that Epipen hard into the orange...except I was holding it upside down and it didn't go into the orange. The needle punched into my thumb, hit bone and bent sideways injecting me! I remember my heart stuttering and I stumbled backwards away from the table. My mother hollered for my father and tried to catch me as I pitched over, white as a ghost. Where my heart had stuttered it was now racing like a horse and my blood was roaring in my ears. I held my right hand up in front of my face with my fingers all extended straight out in shock and the Epipen was hanging from my thumb by the crooked needle. I tenderly pulled it out but the damage had been done.
Telehealth was a new thing back then so we called to see what should be done. I remember giving them the information over the phone, "Hi. Yeah. I sort of gave myself an Epipen injection by accident when I tried to practise on an orange. Yes....Yes, I do feel sort of funny...Yes, I fell over. No, my mother caught me and put me in a chair. Um, yes, I think all the medicine was used up...Um, should I mention now that this medicine is 6 months past its expiry date?"
There were no lasting ill effects from that debacle but what a first impression to make on someone! Egads! It helps now that Epipens have visual pictures on the injectors themselves to show you which end is up. We still joke its good that my son has never needed an Epipen injection because I'd probably give it to me instead of him. Then we'd both be on the ground together! Ahem.
Just like that spectacular first impression I made, These Broken Stars is the first in a series and it makes a powerful and memorable impression. This story grips you from the start. When events narrow the bulk of the book to two characters you have the opportunity to fully explore each of them as people against the backdrop of an unknown environment. I'd say it's an adventure book, a suspense novel but those descriptor words pale in comparison to how fully you immerse yourself in their stories, their reactions, their growth, their ability to overcome and carry on. It leaves you wondering how they'll turn out at the end and it isn't at all what you expect, what you think might happen – what a double gift to get in one book!
The ending of the book grows heavy on the science-fiction which lost me a bit. I'm not normally found reading science-fiction. But the impression this book made was deep and the content not so cruel or adult in nature that I can't share it with either of my daughters who are branching more and more into young adult. There is a romance factor that happens near the end of the book but it is implied, not given even a paragraph of minor description so my parental warning in that regard is very light.
If you're looking for a book that is like an Epipen injection – without needing to give yourself an Epipen injection, this is the one for you!
Miss Gevious

Wed, 11/26/2014 - 14:26