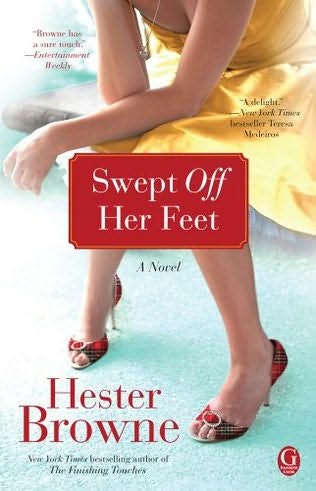 Synopsis:
Evie Nicholson is in love . . . with the past. An antiques appraiser in a London shop, Evie spins fanciful attachments to Victorian picture frames, French champagne glasses, satin evening gloves, and tattered teddy bears - regardless of their monetary value.
Alice Nicholson is in love . . . with Fraser Graham, a dashing Scotsman whom Evie secretly desires. As crisply neat and stylish as Evie is cheerfully cluttered, Alice is a professional organizer determined to pull her sister out of her comfort zone - and who presents her with an irresistible offer.
As a favor to friends of Fraser's family, Evie jumps at the chance to appraise a Scottish castle full of artifacts and heirlooms. What could be more thrilling than roaming the halls of Kettlesheer and uncovering the McAndrews' family treasures - and dusty secrets?
But crossing paths with moody heir Robert McAndrew has Evie assessing what she wants the most . . . and at an upcoming candlelight gala, a traditional dance will set her heart reeling.
---
What a lovely wee romance novel this is.  Hester has given us a nice mix of modern girl bumbling around a family's antiques which uncovers a love story from the past.  There is a perfect balance played out between the two time periods - heavy on the modern, light and just enough on the historical.
Romance is the main theme of the book but it is played light throughout leaving room for deeper character growth.  I loved the winter Scot's castle setting and the way that Evie loves everything old.  It made for a nice contrast with Robert's pragmatic, logical and accountant's eye to the value of 'things'.
I've never reeled or seen a reel so the descriptions of the dance itself were a bit confusing at times, but as with most fiction, you can fill in the gaps in your mind and move on. 
This book has whimsy, lovely rolling hills in soft white snow that crunch cold with the progress of steps, echoes of bagpipes, manly legs in kilts and good hearted characters that make you root for them to win the day.  A thoroughly satisfying and enjoyable interlude with a Scottish flavour making it unique among most romance novels.
Miss Gevious

Wed, 04/16/2014 - 08:33