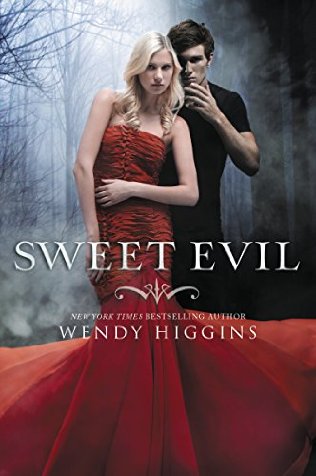 Synopsis:
Tenderhearted Southern girl Anna Whitt was born with the sixth sense to see and feel emotions of other people. She's aware of a struggle within herself, an inexplicable pull toward danger, but Anna, the ultimate good girl, has always had the advantage of her angel side to balance the darkness within. It isn't until she turns sixteen and meets the alluring Kaidan Rowe that she discovers her terrifying heritage and her willpower is put to the test. He's the boy your daddy warned you about. If only someone had warned Anna. Forced to face her destiny, will Anna embrace her halo or her horns?
_______________________________________________________________________________________________
I debated reading this book for a few years for a variety of reasons: The cover didn't capture my interest at all. It seemed to shout "DRAMA!" coupled with teen angst and the description of the novel was demons, demons, demons which to me seemed a cliche plot outline. After this book was recommended to me at Goodreads for a number of previously enjoyed novels I decided to give it a fair shot, and I'm so glad I did!
Yes, this book has demons aplenty, yes there is teen angst and drama and no, I still don't like the cover, but what redeems this entire book despite its drawbacks is the way that Anna handles herself. I actually WANT my two daughters to read this book so they can see how Anna makes her choices. She is tempted by her peers to drink and/or do drugs, she is told it is her job to lose her innocence. Anna faces some hard truths about herself and could easily slip into what other people want from her..
As a mother of two daughters stepping into the realm of teenage years, I realize the world is a very different place for them than it was for me. The topics covered in this book provide real situations and choices they might have to face themselves. As much as I'd like to turn a blind eye to it and think, never my girls, this book provides the opportunity for us to talk about parties, drugs, and strategies. For that alone, I highly recommend both parents and teens read this book and start talking.
I also want to point out that although this book is not classified as Christian fiction, it has subtle undertones of spirituality. Anna specifically and consciously chooses to have faith in times of dark choices. It was surprising given the context of the book, but it was not preachy at all. Hey parents, here's another conversation starter for you.
Beyond Anna, the rest of the cast is filled out with a demon father, a demon boy-interest, a demon group of teens and a couple of friends who are normal humans. They help round out the setting, provide the heartache and tough choices that Anna faces just like minor characters should, but sadly, they did not feel entirely real or believable to me as a reader. Perhaps with further books we can explore their back stories/internal struggles to enable us to get a closer and more in depth look at what makes them tick.
This is the first book in a trilogy that's turned into four published works to date. I am pleased to say I will be continuing on in this series which at first, gave me doubts. Don't you just love pleasant surprises like this?
Miss Gevious

Tue, 03/31/2015 - 12:51