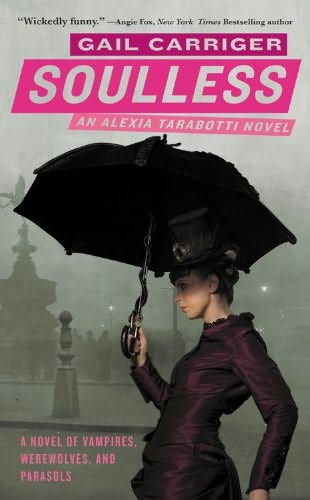 Synopsis:
BOOK ONE: ALEXIA TARABOTTI SERIES. Alexia Tarabotti is laboring under a great many social tribulations. First, she has no soul. Second, she's a spinster whose father is both Italian and dead. Third, she was rudely attacked by a vampire, breaking all standards of social etiquette.
Where to go from there? From bad to worse apparently, for Alexia accidentally kills the vampire -- and then the appalling Lord Maccon (loud, messy, gorgeous, and werewolf) is sent by Queen Victoria to investigate.
With unexpected vampires appearing and expected vampires disappearing, everyone seems to believe Alexia responsible. Can she figure out what is actually happening to London's high society? Will her soulless ability to negate supernatural powers prove useful or just plain embarrassing? Finally, who is the real enemy, and do they have treacle tart?
---
Like Alice in Wonderland, to tumble into the pages of Soulless is to find yourself in a warped version of the world you know and be fascinated by the characters you find there.  I simply loved this book that reads like a thick stew - fantasy, sci-fi, historical, romance, suspense, adventure and the still warm freshly baked tea biscuit to go with this stew is the comedy.  The best thing about comedy is the way it surprises you - especially in a historical, puritanical setting such as Soulless in the mid-1800's, Great Britain.  I burst out laughing more than once and paused for a moment to savour the genius placement of it.
The romance is nice and steamy but not graphic in any way.  This book is all about balancing so many good aspects from plot twists, character development, great relationships and all within the confusing whirlwind of a complex setting.  There is a lot going on and the varying 'species' to keep straight in your head, but once you get past the general outline, it flies without difficulty.
This is a highly entertaining, intelligent and heart-warming story that makes me rub my hands together in eager anticipation to the rest of the series. 
For a first-time author, Soulless is a sure-fire bang out of a cannon for Gail Carriger and I will most certainly be adding her series to my book shelf.
Miss Gevious

Wed, 04/16/2014 - 15:26