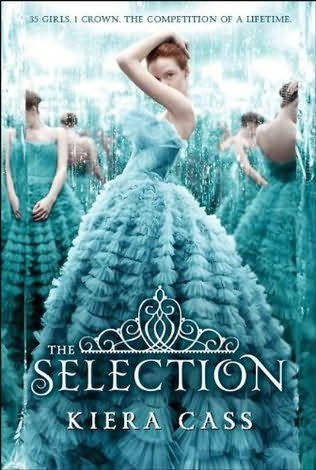 Synopsis:
BOOK ONE: SELECTION SERIES. For thirty-five girls, the Selection is the chance of a lifetime. The opportunity to escape the life laid out for them since birth. To be swept up in a world of glittering gowns and priceless jewels. To live in the palace and compete for the heart of the gorgeous Prince Maxon.
But for America Singer, being Selected is a nightmare. It means turning her back on her secret love with Aspen, who is a caste below her. Leaving her home to enter a fierce competition for a crown she doesn't want. Living in a palace that is constantly threatened by violent rebel attacks.
Then America meets Prince Maxon. Gradually, she starts to question all the plans she's made for herself- and realizes that the life she's always dreamed of may not compare to a future she never imagined.
---
This book made me feel like a little girl/teenager again.  Growing up, I LOVED princess stories.  In fact, I wrote a princess story in grade two that made it into our school's year book.  Princesses and happy endings were my bread and butter and The Selection was an entire loaf and stick of butter for me.  It reminded me of why I loved those types of stories to begin with - struggling girl with a heart of gold who loves her family puts herself forth for the prince to marry to help their situation.  She goes into it with preconceived notions and prejudices that get her in hot water and then slowly fizzle away until she realizes she is falling in love with the prince.  What is NOT to love about that premise, people!
Sigh, I couldn't wait to get back to this book when life demanded my time, I stayed up late to finish it and I am clamoring for the next book in the series - all classic signs of a book that deserves to go on my personal shelves.
Beyond the storyline of this book, it has a great cast of characters both major and minor.  In addition, we get a hint that things are not as they seem in the general running of the education of the country (no history books are allowed), and rebels are quite fierce in attacking the castle but seem to be searching for something that no one can identify or understand.  Things are afoot with the King that don't make sense - I can see the prince having a showdown with his father later in the series which is a wet your whistle mystery amidst the great romance.
Being Young Adult, Kiera keeps the romance light enough for this genre, but it is a bit heavy in the beginning with stolen moments that heat up quickly.  After America breaks up with Aspen, things cool down for the majority of the book leaving room for a slow warm up with the prince.  This aspect does bar me from sharing this greatly enjoyed book with my 12 year old daughter, but it was a borderline decision for me.  Older teens and adults would have no problems with the content. 
Overall a snappy paced, sweetly charming and intriguing series that made me love princess stories once more.  A loud round of applause from me for The Selection.
Miss Gevious

Wed, 10/16/2013 - 21:25