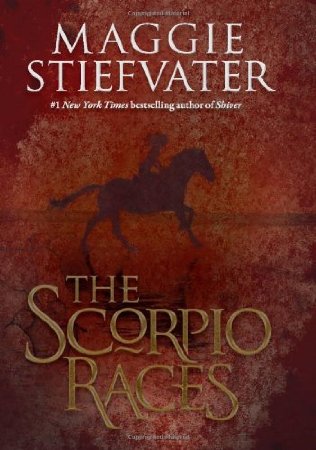 Synopsis:
It happens at the start of every November: the Scorpio Races. Riders attempt to keep hold of their water horses long enough to make it to the finish line. Some riders live. Others die.
At age nineteen, Sean Kendrick is the returning champion. He is a young man of few words, and if he has any fears, he keeps them buried deep, where no one else can see them.
Puck Connolly is different. She never meant to ride in the Scorpio Races. But fate hasn't given her much of a chance. So she enters the competition — the first girl ever to do so. She is in no way prepared for what is going to happen.
_________________________________________________________________________________________________
Unique. It's a word we use quite often, ironically. But The Scorpio Races is unlike any book I've ever read and to call it, different, somehow doesn't seem enough. I'd read The Raven Boys by Maggie and thought it a bit too dark for my tastes, but in chatting with one of our many well-read patrons, she suggested I give The Scorpio Races a try. It IS dark - that seems to be Maggie's comfort zone. But darkness goes hand in hand with the stark reality of life on the island named Thisby.
Our characters are poor. They are orphaned. They scrabble to not only get by but to try and reach for their dreams despite the heartache. These characters are strong and have needed to be strong time and again and it is a beautiful struggle to watch as they slowly gain ground on what they want.
But what really sets The Scorpio Races in a class all it's own is the main theme of water horses. These horses are born in the sea. They are bigger and stronger than our version of horses on land. They fight their way out of the surf and are fighters at heart. They are predators who eat meat and come out of the surf hungry. Sheep, dogs, cats and even humans beware when the horses arrive on the sand. If you are horse savvy you can catch them when they come from the churning waters. They can be tamed to a degree. And the island has a big race each year on November 1st. It attracts tourists world round for the famous water horses race. It is super dangerous because the race takes place on the very beach the horses arise from and at that point in the year they want to go back to the sea more than they want to run with wild abandon. As a result, people and horses die each year.
This story felt like a Grimm's fairy tale. Dark and whimsical it draws you in and keeps you close right up to the very last sentence. When I was growing up both my sister and I went through a phase where we begged my father to buy us a horse. We had a big, glossy picture book of horses and I remember my favorite ones were the Clydesdales. They were big, gentle giants in my mind. Strong and purposeful for farm work in the summer and ready for fun in the winter for sleigh rides through the snow. Of course farms were done with horses when I was growing up and our father never did buy us a horse. As an adult now I understand completely the reasoning behind his decision. If you've ever liked horses at any point in your life, The Scorpio Races will make you love them all over again.
I've given this book the highest rating I can because it is a gift to read among the normal fiction we invest our time in.
Miss Gevious

Tue, 06/16/2015 - 08:37