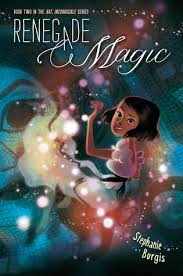 Synopsis:
BOOK TWO: UNLADYLIKE ADVENTURES OF KAT STEPHENSON SERIES. Nowhere in England is safe from the mischief and magic of Kat Stephenson: Her eldest sister has finally wed, but when a scandalous accusation threatens the marriage prospects of Kat's second sister, Angeline, Stepmama swiftly whisks the family away to Bath in an attempt to outrun the gossip and betroth Angeline to a respectable suitor. Meanwhile, Kat's utter lack of ladylike propriety has prompted the powerful Lord Ravenscroft to expel her from the magical Order of Guardians - before her training has even begun! Anger and exile aside, Kat knows something is not quite right about Lord Ravenscroft...
---
If books were candy this one is a sweet treat.  Intense, fun, sneaky and delightful all in one scoop, Renegade Magic is a charming and loveable novel.
I happily admit that I stayed up late to finish this story - not often I can say that about a Junior Fiction book.  Most adults turn their noses up at Junior Fiction in general but there are pockets of genius storytelling and Stephanie Burgis is an author that has proved golden for me in both books of her series, The Unladylike Adventures of Kat Stephenson.
I love that our main gal, Kat, is fiercely loyal about her family and she puts them first in her thoughts and motivations to protect them from life's injustices.  Where Kat's youth predictably has found her curling her fingers into fists should anyone say anything untoward about her family, book two finds her struggling to choose between when to fight and when to save it for the greater outcome.  It's all well and good to be a feisty firecracker, but to know when it's better to zip your lips is an important - and in Kat's case, life saving skill.
There are juicy twists to the plot that reveal a bit more about Kat's brother and father which were a good balance to all the female focused pages.  And where I tip my hat most to author Stephanie is the overall theme of struggle for Kat.  Not just the self-control I mentioned earlier but overall in being a young girl in the early 1900s and the parallel difficulties with the magical order which eventually boot Kat out.  Difficulty is a tricky thing to get right - too much and it feels tired and downtrodden, too little and the story becomes fluffy and insubstantial.  Stephanie writes it perfectly balanced and each book leaves us with more on the horizon but not in a way that feels heavy, merely something we look forward to.
This book is a little humdinger with a lot of heart.
Miss Gevious

Mon, 04/28/2014 - 15:39