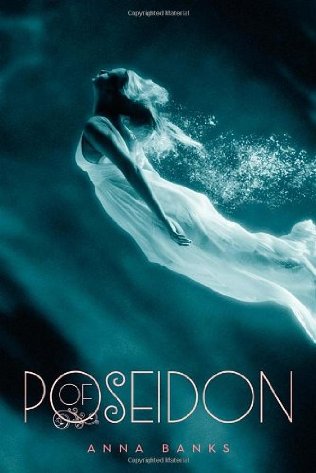 Synopsis:
The day Emma meets Galen on the beach is the day her life changes forever. Galen is the prince of the Syrena sent to find a girl he's heard can communicate with fish. When Emma runs into him-literally, ouch!-their connection is immediate and powerful. Could this be the girl? After several encounters, Galen is convinced Emma is the one. But how can he convince her of her gift? And how can he make his feelings for her disappear? She's the key to his kingdom, she can't be the key to his heart.
________________________________________________________________________________________________
In a sea of ho-hum reading this past month, Of Poseidon was the novel to make me sit up and take notice of a good book again. The timing was sweet as well with it being the middle of summer coinciding with a summery, swimming type novel.
There are a few stand out factors to this book. 1. Emma, our main gal, is a clumsy but well-meaning teen. Her stubborn streak is a nice contrast to her natural impulse for everyone to get along. I enjoyed her unknown talents as they surfaced throughout the book and how her understanding of herself changed. 2. I mentioned it above, but the setting was refreshing. Personally, if I'm in a pool or a large body of water for more than 10 minutes I start to feel sea sick so I'm not a swimmer by nature. I'm also a little freaked out knowing there are bigger fish than me when it comes to oceans or seas. I'd never want to swim in those. But in this novel, you can swim to quite a deep sea level and feel calm, as seen through Emma's experience, which was a new idea to me.
Something different in this book was the angle of storytelling. Emma's passages are written in first person, thru her eyes, feeling her feelings etc. But when it is Galen's turn, instead of using first person, author Anna Banks uses third person terminology. It is a more detached way of telling our story, almost as though it were being narrated which is certainly left of the usual beaten path.
All in all, this is not your usual run of the mill young adult love story. It follows some key rules, but it is wrapped in some unique styles and ideas that make it feel fresh.
Miss Gevious

Mon, 08/03/2015 - 15:04