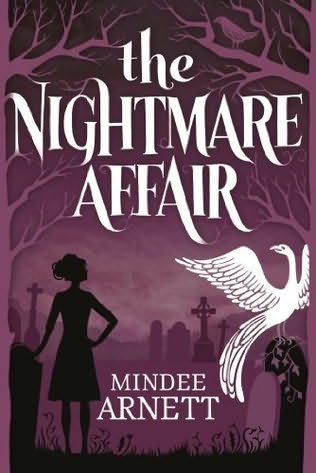 Publisher:
Tom Doherty Associates, 2013
Synopsis:
BOOK ONE: ARKWELL ACADEMY SERIES.  Sixteen-year-old Dusty Everhart breaks into houses late at night, but not because she's a criminal. No, she's a Nightmare. Literally.  
Being the only Nightmare at Arkwell Academy, a boarding school for magickind, and living in the shadow of her mother's infamy, is hard enough. But when Dusty sneaks into Eli Booker's house, things get a whole lot more complicated. He's hot, which means sitting on his chest and invading his dreams couldn't get much more embarrassing. But it does. Eli is dreaming of a murder. Then Eli's dream comes true.
Now Dusty has to follow the clues - both within Eli's dreams and out of them - to stop the killer before more people turn up dead. And before the killer learns what she's up to and marks her as the next target.
---
What prompted me to try this new author and book was a recommendation from Marissa Meyer - famed author of the Lunar Chronicles which both my daughter and I adore.  Though both series are found on the Young Adult genre shelves, I won't be letting my 12 year old daughter read this series just yet.  But more about that later....
What I liked about The Nightmare Affair was the obvious creativity behind the setting.  Like any first book in a series, we need to set the stage and the players and in this case, we have a parallel world much like Harry Potter - muggles aka ordinaries in this book and Magickind - grouped into three subsets - Witchkind, Naturekind (fairies etc), and Darkkind.  It took a bit of time to accommodate myself to all the set up information, but bravo on the colourful world Mindee has created for us readers.
Another positive feature of this book are our characters.  I love a good high school book that has girl best friends.  Sure there are some not-so-nice arch enemy girls in the halls but having a good friend at your side counter-balances a lot of life's drama at that age.  The dialogue for these teens is very well written and realistic, an important layer when considering teen readers in general.
For adult readers dipping into the young adult genre here, we've got some nice tidy murders to solve...and those are the very aspects of this book that have me putting it in reserve for my daughter to read until she is age-worthy of the content.  There is a good amount of who-dunnit confusion and multiple finger-pointings that end disastrously.  This keeps the pace moving along nicely to the final conclusion.
Overall I enjoyed this first book in a new series and look forward to the next one.
Miss Gevious

Wed, 03/12/2014 - 15:13