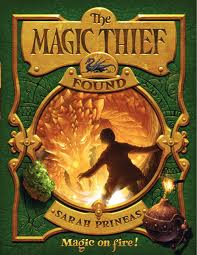 Publisher:
Harper Trophy (Harper Collins), 2010
Synopsis:
BOOK THREE: THE MAGIC THIEF SERIES. Sneaking out of prison isn't easy, unless you are a thief, or a wizard. Luckily, Conn is both! Trouble is, once he's out, where does he go? His home is a pile of rubble since he blew it up doing magic. His master, the wizard Nevery, is not happy with him. Worst of all, Conn's been exiled, and staying in the city will mean his death. But Wellmet is in danger from an evil predator coming to destroy the city, and Conn must set off on a quest to fight it. Suddenly, a huge shadow looms over him and he is swept away by something more awesome than his wildest imaginings. Is Conn brave enough to answer magic's call, or is he really just a thief at heart?
---
If you've had a chance to peruse my review of the first two books in this series, you'll know that I loved them both and that same level of enjoyment was extended to this final book in the series. It is not easy to write three books that maintain the same high level of excitement from readers, yet Sarah does it flawlessly. In fact, I was very sorry to finish and wished she was continuing it!
In this final installment of the The Magic Theif series, the magic takes a firmer grip on Conn in this story and I found my eyes tripping over themselves in the final few chapters to find out what happens! Action and adventure are intertwined in a way that never lets you go. And yet, despite the speedy rollercoaster, Sarah doesn't loosen her grip on a character-driven story. The two combine for a successful and satisfying conclusion to this excellent trilogy.
The wonderful thing about a series is the way that readers get to know places and characters.  If the intensity of the plot twists can keep you in its grip, you have the opportunity to explore all the nooks and crannies of the world and see into all the hidden places within a character.  This series is exactly that type of read - it stays with you long after you have put the books away on your shelf.
Sarah Prineas has been put on my 'must buy everything she ever writes' list. How lovely for both myself and my children!
Miss Gevious

Wed, 07/11/2012 - 20:16