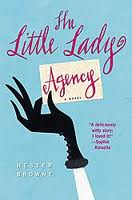 Publisher:
Simon & Schuster, Inc., 2005
Synopsis:
BOOK ONE: LITTLE LADY AGENCY SERIES. Melissa Romney-Jones can bake a perfect sponge cake, type her little heart out, and plan a party blindfolded.  But none of that has helped her get far in life or in love.  When she gets fired-again-she decides to market her impeccable social skills to single men.  To avoid embarrassing her father, a Member of Parliament, Melissa dons a blond wig and becomes "Honey," a no-nonsense bombshell who helps clueless bachelors shop, entertain, and navigate social minefields.  She even attends parties if a client needs a "date."  But when a dashing American starts to request Honey's services on a regular basis, it's only a matter of time before Honey's and Melissa's worlds collide...
---
Snap this book up if you can.  That's my
advice when it comes to this series by Hester Browne.  I thoroughly enjoyed the premise of this
story and what fun it was to vicariously put on a wig with Melissa and become
the strict, 'Honey' putting everyone's lives in order...except her own.  I
also loved that this is a main character with curves – for once a break from
the usual willow-thin female, Melissa is yanking up her spanx thinking about
her roommate's excellent shortbread cookies she ate the night before. 
The
relationships in the book are well outlined and realistic.  The romance
factor kept us guessing what turn would appear next right to the very end of
the book.  And let's face it I'm always a sucker for a naive, good hearted
character who always believes the best in everyone.
The pace of the book is a stroll through a park,
but it's a sunny, warm day so who doesn't love that in the middle of a cold,
long winter in Canada?  The intensity of the book comes from wondering
just when 'Honey' will finally turn around and fix her own messy Melissa life.
*****SPOILER ALERT DON'T READER FURTHER...OR YOU'LL
KNOW STUFF***********
The only slight problem I had with
this book was the very ending.  After hoping Honey would ream out
Melissa's Dad (who was quite brutally mean to her throughout the entire book),
it was such a short event I felt a bit cheated.  In fact, she didn't
powerhouse him as Honey would have at all.  She fizzled and her friends
held her up, her Granny held her up but Melissa didn't grow a backbone after
all.  Huh.  Bit of a head scratcher for me, but I'm looking forward
to book two-maybe inner strength is the name of the game there.  I hope so because that type of character
conflict can get old fast.  You can bet
your spanx on it.
Miss Gevious

Sat, 03/22/2014 - 13:17