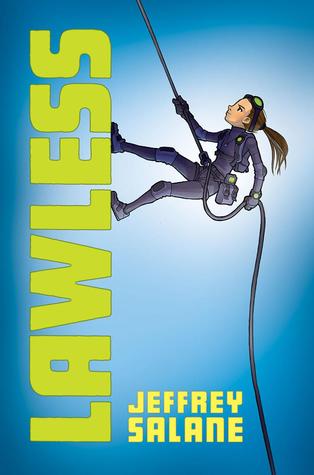 Synopsis:
M Freeman has been homeschooled her entire life. So M has no idea just how unusual her education has been - not until she leaves home to attend the prestigious (and mysterious) Lawless School.
Suddenly, it's very clear to M that her tutors have been preparing her all along for a life of crime. She excels at escape tactics. She's a whiz at spotting forgeries. Her years of piano lessons pay off when picking pockets and cracking safes.
M's newfound talent for criminal mischief soon brings her to the attention of the Masters, the secretive school's most secretive clique. M's interest in the Masters is personal - joining this international dishonor society is her best chance to learn the truth about her father's life . . . and his death. But when her first real-world heist goes wrong, M is left wondering: Is there truly honor among thieves?
---
I gave this book to my 10 year old daughter for Christmas and at first, she seemed to be doing well, and then a quarter of the way in, she stopped completely.  Curious, I asked her not to tell me about the book (we normally talk shop on the books we are reading) and I dove in to see what the problem was.
The first thing I noticed was that our main gal M who was 12 years old acted and thought much like a 30 year old.  Sure, you can say she had a different type of upbringing and her maturity was far advanced, but why would you want to advance her so much that young readers around her own age cannot relate? 
The second thing I noticed was the language being used throughout the story.  If you are writing for junior fiction readers you are not aiming to be a thesaurus.  Words like infringement are high level language more suited to young adult or adult fiction.  Also bogging our story down were descriptions of every building and landscape that again, were fairly high level for the junior genre.  Instead of saying she scanned or looked over a room it is written she 'canvassed' the room.  I'm not saying you have to write a low reading level book to appeal to the majority of junior fiction readers, but at the same time, books need to be fun and relatively easy to skip through when you are writing a heavy adventure novel like Lawless.
As an author, Jeffrey has done his homework and we learn quite a bit about art history - in particular artist Rembrant, but it is bogged down by all the double crossings, jumping countries, shrouded mysteries from the past and after a while the multiple combinations of plot complications made my brain feel too heavy.  I was curious how and where the cliff hanger would leave our characters, but was slightly relieved to be finished as well when I got to the ending. 
This is a truly high end junior fiction novel and despite it having a female main character, the content and meat of the story, in my humble opinion, makes for a better boys book.
Miss Gevious

Tue, 01/07/2014 - 14:29