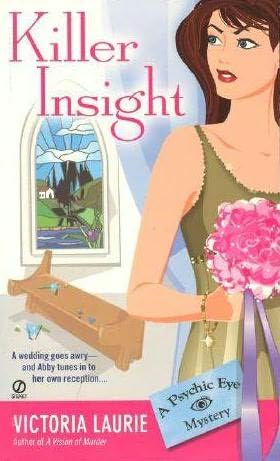 Synopsis:
BOOK FOUR: ABBY COOPER PSYCHICH EYE MYSTERY SERIES. When a childhood friend of Abby's from Denver, Colorado, finds herself short one bridesmaid, it doesn't take a professional psychic to see the opportunity for a much-needed getaway. But one bridesmaid after the next is mysteriously flying the coop, and Abby's intuition tells her their final destination isn't pretty. With the wedding party falling apart and her gift of sight never quite so foggy, Abby has to save the date-and herself from becoming the next taffeta-clad target.
---
This was a fun, fourth installment in a solid whodunit mystery series.  I am still loving the psychic tidbits that real-live psychic and author Victoria Laurie gives us as readers.  It is a sneak peek at both the pros and cons of living a life with that special sight.
One of Victoria's strengths is writing relationships that have their bumpy spots despite our best efforts for everything to be perfect.  I enjoyed this novel because it included a child-hood friend and her new circle of friends - a fresh cast of characters...granted, most of them died so we won't be seeing them anymore, but still it was a fresh setting and fresh faces.  Just like Abby, we as readers have taken our break and are ready to 'go home' to the usual cast in the next book, Crime Seen.
As to the mystery component I had two key suspects lined up - not the one played to quite heavily in everyone's minds...and I was right.  Where this might disappoint some, I take it as a positive sign that I am intelligent (at least in this case!).
If you're looking for an interesting and light mystery series this one is a good pick.
Miss Gevious

Tue, 04/01/2014 - 17:03