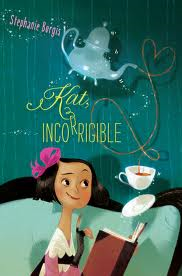 Synopsis:
BOOK ONE: THE UNLADYLIKE ADVENTURES OF KAT STEPHENSON SERIES.  Katherine Ann Stephenson has just discovered that she's inherited her mother's magical talents, and despite Stepmama's stern objections, she's determined to learn how to use them. But with her eldest sister Elissa's intended fiancÉ, the sinister Sir Neville, showing a dangerous interest in Kat's magical potential; her other sister, Angeline, wreaking romantic havoc with her own witchcraft; and a highwayman lurking in the forest, even Kat's reckless heroism will be tested to the upmost. If she can learn to control her new powers, will Kat be able to rescue her family and win her sisters their true love?
---
In the words of the chicken from Robin Hood, Ooh Da La Lee! What a great book!  Okay, she didn't say the book part but the sentiment is the same.  My 12 year old daughter read this book first and told me it was really good and did we have the other books because she wanted them right away.  A few months and an approved budget at the library later I finally had the trilogy in hand and decided to give it a go myself.  And I'm so glad I did!
While most adults turn up their noses at a 'Junior' fiction book I sometimes find I need a break from the comedy romances, the suspense and intrigue of mystery and after a disappointing read in both Young Adult and Adult Fiction genres I was primed and ready for a good solid story which is exactly what Kat Incorrigible gives you.
This book is whimsical, sweet, funny, intelligent, full of sassafrass and a never ending supply of adventure.  It also tugs consistently on your heartstrings as the three sisters all still deeply miss their mother who died just 7 weeks after giving birth to our main gal, Kat.  This fractured family of detached clergyman father, strict and narrow minded step-mother, useless gambling git of an older brother and the three girls are all memorable characters primed for much conflict, misunderstandings, and the usual brick and brack of daily restrictions on most 'fun' behavior in the late 1800's.
What my daughter said she liked most was how Kat didn't sit around and wait for the adults or her well-meaning older sisters to find solutions.  Kat is a take the bull by the horns kind of gal who crashes into situation after situation with her well-meaning ways.  When her mother's dormant 'guardian' magic chooses Kat, we get a first row seat to a wobbly start in how to use her newfound special talent properly.
This is a thoroughly enjoyable book for any aged reader and I am quite pleased to recommend it.
Miss Gevious

Fri, 04/11/2014 - 10:42