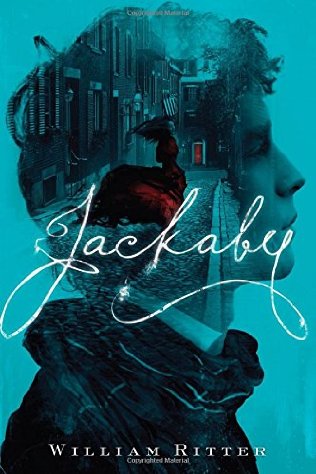 Synopsis:
Newly arrived in New Fiddleham, New England, 1890, and in need of a job, Abigail Rook meets R. F. Jackaby, an investigator of the unexplained with a keen eye for the extraordinary - including the ability to see supernatural beings. Abigail has a gift for noticing ordinary but important details, which makes her perfect for the position of Jackaby's assistant.
On her first day, Abigail finds herself in the midst of a thrilling case: A serial killer is on the loose. The police are convinced it's an ordinary villain, but Jackaby is certain the foul deeds are the work of the kind of creature whose very existence the local police seem adamant to deny.
While Abigail finds herself drawn to Jackaby's keen intelligence and his sensitivity to phenomena others barely perceive, her feelings are confused by the presence of Charlie, a handsome young policeman willing to help Jackaby and Abigail on the case. But is Charlie's offer a sincere desire to be of service, or is some darker motive at work.
________________________________________________________________________________________________
I loved the cover of this book and no matter the synopsis, wanted to give it a try. I realize how shallow that is, but I know I'm not alone in that initial grab of 'oooooh, what's this book about?'.
This first novel by William Ritter has received a good amount of praise. It would have received more praise from me if it had been sold to a Young Adult audience as opposed to a Junior Fiction one. The plot surrounds some grisly murders; that alone should have twigged 'the powers that be' that this book was more suited to teen readers than middle grade ones. I've heard the usual hoopla that kids are becoming a much more advanced, violence-numb audience, but for the pocket of parents who care about exposure to this type of content to young minds, this warning is for you.
Beyond the murders themselves, this novel is well crafted. I quite enjoyed the adventures of Abigail as she finds an unlikely fit with the wildly eccentric Jackaby. There is quite a bit of paranormal content to get used to at first, but it eventually weaves itself easily into daily life at the turn of the century setting. It does require quite a bit of fictional forgiving. My teen daughter who tried this book felt it was a bit too heavy for her tastes.
The characters themselves are well written. Abigail is our standard usual girl and solidly normal which is important given the oddities of Jackaby and other minor characters that eventually come to light by the end page. Abigail provides the all important support beam for a crazy, tipsy mess of ghosts, trolls, otherworldly beings etc.
This is the first book in a series, but after checking out the highlights of book two: Beastly Bones, I can see that murder and mayhem is the central point of the plot again and I feel as though I've been there, done that with Jackaby and I'm done with that type of read.
Miss Gevious

Mon, 04/27/2015 - 13:27