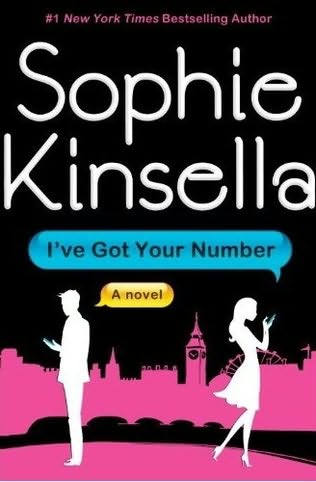 Synopsis:
Poppy Wyatt has never felt luckier. She is about to marry her ideal man, Magnus Tavish, but in one afternoon her 'happily ever after' begins to fall apart. Not only has she lost her engagement ring in a hotel fire drill but in the panic that follows, her phone is stolen. As she paces shakily around the lobby, she spots an abandoned phone in a trash can. Finders keepers! Now she can leave a number for the hotel to contact her when they find her ring. Perfect! Well, perfect except that the phone's owner, businessman Sam Roxton, doesn't agree. He wants his phone back and doesn't appreciate Poppy reading his messages and wading into his personal life. What ensues is a hilarious and unpredictable turn of events as Poppy and Sam increasingly upend each other's lives through emails and text messages. As Poppy juggles wedding preparations, mysterious phone calls, and hiding her left hand from Magnus and his parents . . . she soon realizes that she is in for the biggest surprise of her life.
---
I started reading this novel in the Day Surgery waiting area at a hospital while my father had hip surgery. Trust me when I say the sound in the room was quieter than silence and the general mood one of tired anxiousness. So when I burst out laughing numerous times...well...I'm just special that way I guess. Next to me with her knitting my mother just rolled her eyes. 
 Sophie Kinsella is the only author that makes me laugh repeatedly. Here's a handy number system that demonstrates my point perfectly:
 AUTHOR AVERAGE NUMBER OF LAUGHS PER BOOK
Lauren Willig = 1 to 2 laughs
Jennifer Crusie = 3 laughs
Janet Evanovich = 4 laughs -Stephanie Plum series
Sophie Kinsella = 5 to 6 laughs
Sophie is the queen of romantic comedy and I wish she was my best friend! I have visions of us laughing so hard my bellybutton falls off – making us laugh all the harder. 
I've Got Your Number is yet again, a number 5 rated book and sits on my shelf next to her others. Poppy, the main character is spot on, as the British would say, for comedic talent. Poppy is modest and hilariously adept at putting herself in humiliating situations. This little heart-felt do gooder, naturally does too much and lands in pool after pool of hot water in both her personal life and professional life. But her intentions are always golden which makes you like her instantly and feel her mortification personally. Top marks for loveable character, top marks for laughable situations. The pace of this novel is interesting. I say interesting because there are the slightly overused footnotes that interject our character's inner thoughts/sarcasm as well as the heavy use of texting between the two main characters. Hats off to Sophie for keeping the text messages grammatically correct for those of us who have not yet ventured into that arena in life. I barely know what lol means than to try and decipher the multitude of short-form language that has been born in the world of texting.
 Both the footnotes and the texting is a delicate balance for our understanding of the progress of the storyline and romantic relationship that only a seasoned writer like Sophie could pull off so flawlessly. If you're looking for a novel light on the romance, heavy on the laughter, this is definitely your book!
Miss Gevious

Mon, 07/02/2012 - 16:28