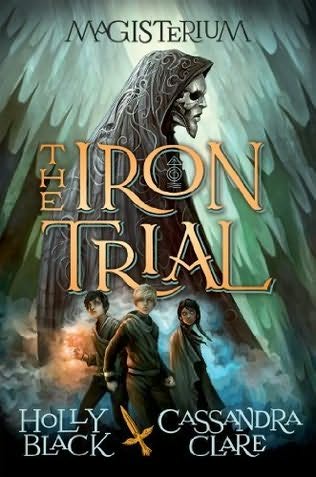 Synopsis:
Think you know magic? Think again. The Magisterium awaits...Most people would do anything to get into the Magisterium & pass the Iron Trial. Not Callum Hunt. Call has been told his whole life that she should never trust a magician. And so he tries his best to do his worst - but fails at failing. Now he must enter the Magisterium. It's a place that's both sensational & sinister. And Call realizes it has dark ties to his past & a twisty path to his future. The Iron Trial is just the beginning. Call's biggest test is still to come...
_________________________________________________________________________________________________
BOOK ONE: MAGISTERIUM SERIES. I'm a magician's dream audience. It's not a priority for my brain to try and figure out how a trick happened. I accept it as good entertainment - the bigger the better. My brother had an interest in magic for a while when we were growing up. My favorite trick was two cards that put together were the same size, but then one would magically grow when he slid them apart. My son has that same interest in a few minor tricks to make things magically, "disPEER!" as he used to pronounce it.
It's hard to read any book about a magical school and not make the obvious comparison to the Harry Potter series. But make no mistake, the Magisterium is no Hogwarts. Darker, angrier and right off the bat we know this series is a different beast all together. Where Harry Potter was Junior Fiction genre, this one is Young Adult, and for good reason. It begins with a war and a sinister message about a lone surviving baby so we know right away this kid is going to be having some tough times. Call, at first, is a very off putting character. He is bullied most of his life and is very bitter about it. As he goes to the Magisterium he makes his first ever friends and things start to look up for him - which was the portion of the story I enjoyed most. Then we are dumped back down again at the end of the book which was, pun intended - a downer.
What was magical about this book was the tight writing. There is no wasted space. It was concise, smart, and seamless between the two authors. The plot itself, though dark in nature, was careful not to dip so deep that I chose to put the book down. There is always hope to be found in some small corner and as Call develops friendships to support him in his journey, we root for him just as much. The relationships are what pulls this story up in my rating and I'm hoping some good magic comes Call's way in book two, The Copper Trial, due out September 2015.
Miss Gevious

Sat, 02/07/2015 - 16:36