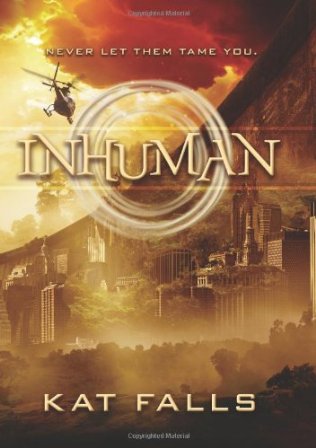 Synopsis:
Lane McEvoy gets the shock of her life when she learns that someone she loves has crossed into the Feral Zone, the forbidden wilderness east of the Mississippi River. Few have dared set foot in the Zone since the devastating biological disaster that killed millions and left the survivors...changed. But now Lane has little choice. She travels east, completely unprepared for what she finds in the ruins of civilization...and afraid to learn whether her humanity will prove her greatest strength or a fatal weakness.
_________________________________________________________________________________________________
I sure hope they never make a movie out of this novel. In stories, you can gloss over some of the gory details and thankfully Kat does this for quite a bit of her book but in visual format, it would be a blood soaked show.
What I love about books is you can visual as much (or as little) as you want in your head. If it gets too intense, skip to the end of the paragraph and carry on. That was how I read, and enjoyed, Inhuman. The setting is dark, the prejudice strong and yet the three main characters of Lane, Rafe and Everson are real enough, and in Lane and Everson's case, hopeful enough that it lightens the load of everything else.
But first, let's chat about Lane. She wear's naivety like a badge of honour and it endears her to us to watch her carry it close through very rough times. I loved this character's goodness mixed with a healthy dose of grit that gets her where she needs to go. Lane is a great modern female role model and I'm looking forward to reading more of her.
Rafe and Everson are opposites - one refined, one wild. One hopeful, one cynical but they both serve as protectors and guides to Lane in her journey. For Lane romantically, it wasn't a drawn out triangle or competition between the two which I appreciated very much as a reader.
And, as for the plot, adventure anyone? Oh yes. This book delivers. Where anything can and would either bite you to infect or bite to consume, it keeps our characters quite literally on the run as they ricochet from predator to predator. This might get tiring except the landscape and predators change right along with prejudices by some characters that were long established.
This is an exceptional journey if you can overlook the sometimes rampant bloodshed. For now, I am not recommending it to my daughter, but in another year or so (and much to her benefit as the second installment would be out by that time) I would pass it to her to read at that time.
Miss Gevious

Fri, 06/26/2015 - 15:42