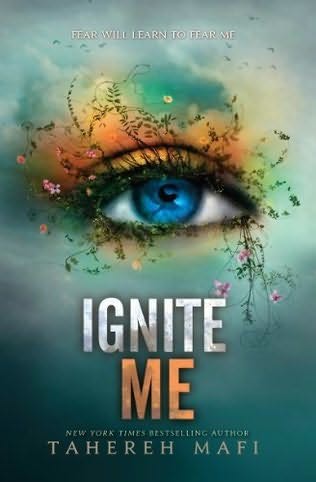 Synopsis:
BOOK THREE: Shatter me series. Juliette now knows she may be the only one who can stop the Reestablishment. But to take them down, she'll need the help of the one person she never thought she could trust: Warner. And as they work together, Juliette will discover that everything she thought she knew -- about Warner, her abilities, and even Adam -- was wrong.
_______________________________________________________________________________________________
By far the best book of the bunch, Ignite Me finishes out the Shatter Me series with a perfect bang. The first two books in this series held a heroine who was uncertain, timid, afraid and frankly, after half a book of that, you find yourself wishing the character would grow more quickly into herself.
What kept me coming back despite the slow character growth was the poetry. Tahereh is an amazing visual, descriptive writer. She offers us a startlingly and different way of seeing everything. For example, when Juliette is hit with a hard truth we read, "My eyes are filling fast with tears and I blink and blink but the world is a mess and I want to laugh because all I can think is how horrible and beautiful it is, that our eyes blur the truth when we can't bear to see it." Another simile that stands out for me is when Juliette has a lot going on and "thoughts are knocking around in my head..."
Finally in book three, we see everything I've been looking for from half way through the first book. The truths come out fast and furious, Juliette finally grows into her own personal strength and owns it gloriously that makes us feel so proud of her. AND she finally chooses between Adam and Warner in her romantic life. Huzzah! There is, of course, the big show down with the Supreme Ruler of The Reestablishment (their dictator) and I liked exactly how that happened and how it all went down. There can sometimes be the sense that final scenes happen too fast after much build up, but Tahereh times things just right - a hard balance for writers.
If you can stomach the wishy washiness and mind wandering episodes of books one and two, I'm happy to promise you that book three ties it all up in a neat, organized and colourful package that is well worth your while.
Miss Gevious

Sat, 01/17/2015 - 08:14