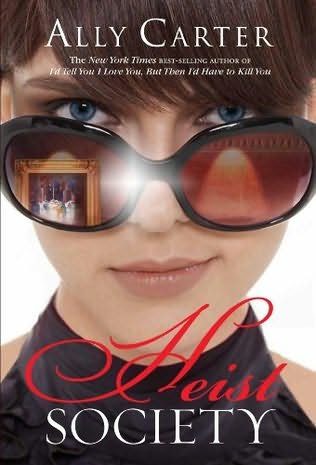 Publisher:
Disney Hyperion Books, 2010
Synopsis:
BOOK ONE: HEIST SOCIETY SERIES. When Katarina Bishop was three, her parents took her to the Louvre...to case it.  For her seventh birthday, Katarina and her Uncle Eddie traveled to Austria...to steal the crown jewels.  When Kat turned fifteen, she planned a con of her own-scamming her way into the best boarding school in the country, determined to leave the family business behind.  Unfortunately, leaving "the life" for a normal life proves harder than she'd expected.
Soon, Kat's friend and former co-conspirator, Hale, appears out of nowhere to bring her back into the world she tried so hard to escape.  But he has good reason: a powerful mobster's art collection has been stolen, and he wants it returned.  Only a master thief could have pulled this job, and Kat's father isn't just ON the suspect list, he IS the list.  Caught between Interpol and a far more deadly enemy, Kat's dad needs her help.
For Kat there is only one solution: track down the paintings and steal them back.  So what if it's a spectacularly impossible job?  She's got two weeks, a teenage crew, and hopefully just enough talent to pull off the biggest heist in her family's (very crooked) history-and, with any luck, steal her life back along the way.
---
Despite the gloom and doom of, "..do this or your father dies.." vibe, this is a snappy, smart little tale.  The family we deal with is very solid if a bit eccentric in their home business and as the odds stack up against our team of teens, the intensity of how they will pull off this job is a fun ride that keeps you guessing until it's all over.
Move over 007, there's a new girl in town!  Kat's a great main character for us to connect with as readers.  She's intelligent, capable and feeling the weight of the world to save her dad.  As a result, we are thankful right alongside her for her family and close friends.  I also really liked her good friend, Hale who is mysterious and rich and hinted at as a more-than-friends type friend.  Just the hint of a romance is all we get with all the planning and research these kids must drum up to pull the heist.
It's an extremely smart story - which is where it falls a bit for me.  There is no misstep in this journey.  Not one hiccup due to hormones or drama or lack of maturity on the part of any of the players and as a result it rang false for their age group.  I'm not saying teens are not capable of intelligence - but this level of sophisticated maturity reads like an adult fiction action/mystery book than a young adults save the world type story.
Having said that, it's a great role model for teen ladies and older ladies of a smart, strong, savvy young woman with a great heart.  I'm quite looking forward to the next book in this series.
Miss Gevious

Tue, 08/12/2014 - 17:49