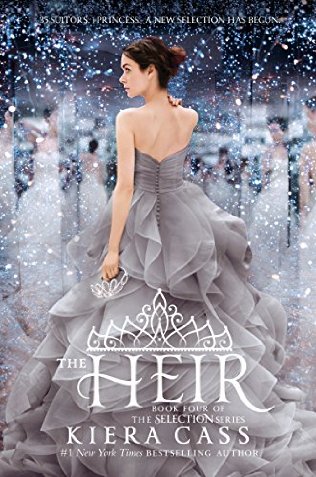 Synopsis:
Eighteen years ago, America Singer entered the Selection and won Prince Maxon's heart. Now the time has come for Princess Eadlyn to hold a Selection of her own. Eadlyn doesn't expect her Selection to be anything like her parents' fairy-tale love story....
But as the competition begins, she may discover that finding her own happily ever after isn't as impossible as she's always thought. A new generation of swoonworthy characters and captivating romance awaits in the fourth book of the Selection series!
_________________________________________________________________________________________________
Consistency, thy name is Kiera. My daughter and I loved Kiera's Selection trilogy and were looking forward to anything more that she might add to the series. It's one thing to keep the good times rolling through three consecutive books that fall in the same time line/setting etc. But to jump ahead 20 years and keep that same vibe, the same excitement when the times have changed? Not easy. In the first three books, America and Maxon are literally battling to survive the day when rebels are never far from storming into the castle and causing chaos. Without that tension, I wondered if Kiera could create an intense novel from peaceful times, the answer is a surprising yes. So my reader's hat is off to Kiera and I bow to a job very well done!
There has been some tight editing to this concise piece of writing. When a writer works hard and smart, we as readers reap the benefits in being able to both fly through the pages and retain a good bit of information.
I stayed up way past my bedtime to finish this novel and did not realize it is a cliff hanger novel. You can imagine my reaction when I reached the final page. It went something along the lines of, "Gaaahhh! You've GOT to be kidding me!" To think I have to wait a year for the final outcome is difficult - but the best kind of difficult for a reader.
I will be most interested in our main gal Eadlyn. She has built some pretty sturdy walls around herself and can come across as thoughtless or even cruel. As she gets to know the boys, cracks are beginning in her fortifications which honestly, make her a bit more likeable to us. She has handled everything in life alone with single-minded purpose. It would be good for her to have a true confident - the closet but still weak example being her twin brother who moves and is no longer available to her at the close of the novel. This will force her to lean on someone to help handle the pressure and tough choices she often has to face. I know who I want her to lean on from the candidates pool and I'll bet in the year before us, readers will have a fun time debating their choices. Ah, such crafty authors. You've got to love them!
Miss Gevious

Mon, 06/08/2015 - 14:14