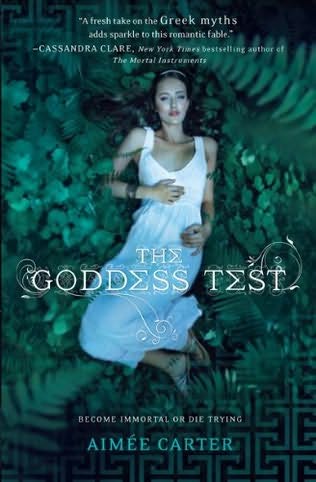 Synopsis:
BOOK ONE: THE GODDESS TEST SERIES. It's always been just Kate and her mom - and her mother is dying. Her last wish? To move back to her childhood home. So Kate's going to start at a new school with no friends, no other family and the fear her mother won't live past the fall.
Then she meets Henry. Dark. Tortured. And mesmerizing. He claims to be Hades, god of the Underworld - and if she accepts his bargain, he'll keep her mother alive while Kate tries to pass seven tests.
Kate is sure he's crazy - until she sees him bring a girl back from the dead. Now saving her mother seems crazily possible. If she succeeds, she'll become Henry's future bride, and a goddess.
---
There are certain ironies in life such as: non-matching socks are cool, vanilla extract smells awesome but tastes terrible by itself and you can't recommend a book to a book reviewer.  Weird, I know, but it's true.  Reading is an intensely personal experience and if you're not in the same wagon as me - wanting happy endings always, sometimes fast paced nail biters, sometimes steamy romance, sometimes sweet relationship characters - then don't recommend me a book.  I don't want devastation, hard truth memoirs, or heavy Science Fiction.  Neither do I want mamby pamby.
Our current co-op student highly, HIGHLY recommended The Goddess Test series and when I ordered book one she told me I had to, HAD TO order book two at the same time or I would not be able to stand it!  Sorry co-op student, but The Goddess Test fell into the dreaded mamby pamby category.
The initial stages of this book earned the whole 3 rating I've given this book.  A mother dying of cancer and her heart-broken teenage daughter trying to hold it all together, unable to say goodbye brought tears to my eyes more than once.  Genuine pure gold in those first opening chapters.  Then, it pretty much fell apart for me.  There were no other relationships written with the same realism.
The romance, which should be a strongly written component of this love story was lukewarm and unbelievable to me for a girl who had never had a date before. 
It felt contrived and amateurish by the end I'm sorry to say.  Book two, Goddess Interrupted, is on it's way to me and I'll give it a go out of respect for our co-op student, but frankly, for a better take on the Persephone story I'd recommend Abandon by Meg Cabot over this version.
Miss Gevious

Sat, 04/05/2014 - 16:05