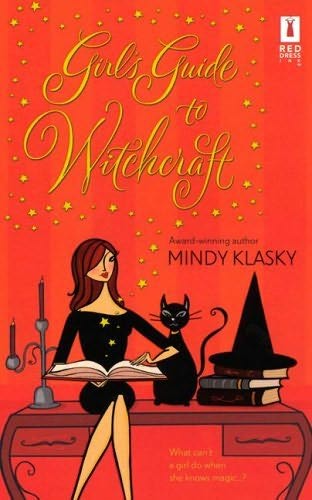 Synopsis:
BOOK ONE: JANE MADISON SERIES. For good-girl Jane Madison, meeting a single, straight, reasonably attractive, willing-to-commit man or discovering a secret cache of magic book is a toss up of near impossibilities - until the day she finds a hidden room...
Now she's done a bit of experimenting and found a spell that makes her irresistible to men - even those who have previously ignored her.  And another that turns a cat into her witch's familiar (a snarky, critical, fashionista).  Though her impulsive acts of magic have brought a ward (sexy, grouchy, elusive and determined to stop her from using magic) down on her, Jane's not willing to let go of this fantastic new life.
Though she wonders about having things that aren't 'real', she's having too much fun to stop.  After all, no one ever said being a witch was easy....
There were so many things I loved about this book - Jane is a librarian (holla!)  And the author, Mindy Klasky is a librarian as well - you go girl!  This book has had some excellent attention to detail and we reap the benefits on every page.  
There are great plot twists, light-hearted magical fun to spice it up, good pace and solid relationships between Jane and her Gran, her best friend Melissa and to the new flip side of her life with her familiar Neko and warder David.  And I'm giving special mention to comedic timing.  You've simply no choice but to love a character with a healthy dose of wit - especially when combined with her ability to fall into embarrassing situations.  It's a wonderful gift when a book can be this entertaining on so many levels.
For me personally, I truly enjoyed reading about another librarian's daily life in a different library setting (they are a reference library with poor traffic so to boost their numbers they put in a coffee bar...Mm! Mm!).  
The romance was kept suspenseful for the most part but very light in content.  In fact, it is left somewhat unfinished for us and Jane at the end, but there are high hopes for book two in the series.
This book was just pure and simple FUN and I can't wait to get my hands on the next book in this series.  Too bad I don't have my own magic wand to make it happen this instant...I wonder if, like Jane, my pampered chef wooden spoon would suffice?
Miss Gevious

Mon, 06/09/2014 - 11:53