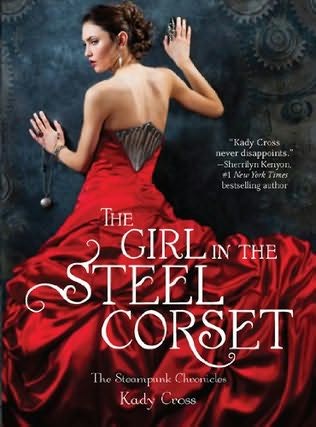 Synopsis:
BOOK ONE: STEAMPUNK CHRONICLES.  In 1897 England, sixteen-year-old Finley Jayne has no one except the "thing" inside her when a young lord tries to take advantage of her.  She fights back.  And wins.  But no normal Victorian girls has a darker side that makes her capable of knocking out a full-grown man with one punch.
Only Griffin King sees the magical darkness inside her that says she's special, says she's one of them.  The orphaned duke takes her in from the gaslit streets against the wishes of his band of misfits: Emily, who has her own special abilities and an unrequited love for Sam, who is part robot; and Jasper, an American cowboy with a shadowy secret.
Griffin's investigating a criminal called The Machinist, the mastermind behind several recent crimes by automatons.  Finley thinks she can help - and finally be a part of something, finally fit in.
But The Machinist wants to tear Griffin's little company of strays apart, and it isn't long before trust is tested on all sides.  At least Finley knows whose side she's on - even if it seems no one believes her.
---
In between your favorite authors it is always in your best interest to have some standby solid contenders.  Kady Cross's Steampunk Chronicles are on my standby shelf.  
This book has a nice mix of common elements to the Steampunk standard - historical setting, creative mechanical devices (with some human/mechanical mixings), a dastardly dude set to take down the British monarchy, and some kick-butt kids.  In addition to this we have a nice sideline colour of special talents in our characters as well as a substance called Organites which mimic the life/cell structure they are glomed onto.  Top points for a fun, creative mix.
And don't let me miss saying how totally awesome the cover is!  Steampunk is a fast-growing market and this book is a strong but gentle way  of introducing new readers to this style.  
The flaws in this book for me rested in two areas: lack of intensity overall and how quickly Griffin was able to help Finley with her two 'sides'.  I felt it should have been a much more difficult (and interesting) melding.
Miss Gevious

Mon, 05/12/2014 - 20:06