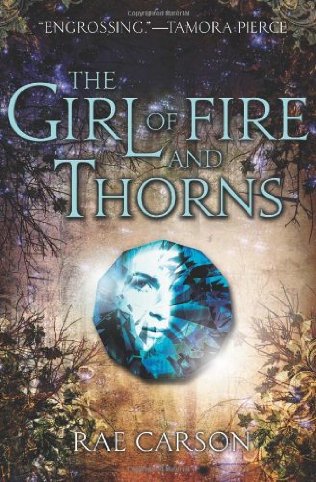 Synopsis:
Once a century, one person is chosen for greatness. Elisa is the chosen one. But she is also the younger of two princesses. The one who has never done anything remarkable, and can't see how she ever will.
Now, on her sixteenth birthday, she has become the secret wife of a handsome and worldly king - a king whose country is in turmoil. A king who needs her to be the chosen one, not a failure of a princess. And he's not the only one who seeks her. Savage enemies, seething with dark magic, are hunting her. A daring, determined revolutionary thinks she could be his people's savior, and he looks at her in a way that no man has ever looked at her before. Soon it is not just her life, but her very heart that is at stake.
Elisa could be everything to those who need her most. If the prophecy is fulfilled. If she finds the power deep within herself. If she doesn't die young. Most of the chosen do.
________________________________________________________________________________________________
This novel was gripping in a way that was unrelenting. Once I started I found my thoughts straying constantly to Elisa's plight. I have a set schedule that includes carved out time for daily reading before bed, but with this novel, I was scraping 5 minutes here, 2 minutes there just to go back for more. I couldn't wait, even knowing life would pull me away after a page or two.
Break-neck pace adventure is the name of the game with this novel. Set in somewhat historical times, let's just lay it all out here and say it's a civilization based on the idea of following God's will - without the birth of Jesus or any Bible to follow. Problem is, just like in today's society, certain individuals think they have the correct idea of what God's will means. Gather a few thousand followers and those who say they know the right thing to do suddenly have quite a loud voice. Elisa is gifted with a "Godstone". As a baby in her crib, a beam of sunlight shines on Elisa and Shazam! she has a stone in her bellybutton that radiates warmth when she prays and sends ice through her veins when she is in danger.
What I love, love, loved about Elisa was her honest doubting. Sure, she was gifted with the Godstone, but like the rest of us, she wanders blind and hopes she is going in the right direction. She never presumes to know the will of God and that is ultimately what saves her and what destroys those who say they do.
I was a bit surprised with the entire theme of the novel set around the Godstone because there is no direct mention of this in the book's synopsis. Perhaps they thought it would reach a wider non-Christian audience by doing so, but it doesn't shove doctrine down our throats. There is strong faith in Elisa which helps guide her and sustain her through some extremely tough times, but I didn't feel overwhelmed or preached at by her or any character in this book.
The pace is awesome. Strong, vivid, and compelling. The characters are tangible and believable. There are parts of the setting that take place in a jungle and you can hear the noise of it all. Other parts are in the desert and you'd swear you feel parched from the dry heat. I will say there is a certain level of violence in this novel for self-defense as well as some battle scenes, but the terminology is gentle and gets us through it as though we skim the top and move on. This book was originally published as junior fiction, but to my understanding, libraries are classifying it as Young Adult due in part to these scenes as well as the fact that Elisa is 16 - smack dab in the young adult years.
Rae Carson is a gifted author on all fronts and one that's going high on my "read-everything-she-ever-writes" list.
Miss Gevious

Mon, 05/11/2015 - 15:08