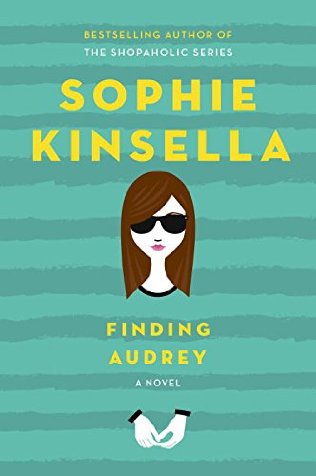 Synopsis:
An anxiety disorder disrupts fourteen-year-old Audrey's daily life. She has been making slow but steady progress with Dr. Sarah, but when Audrey meets Linus, her brother's gaming teammate, she is energized. She connects with him. Audrey can talk through her fears with Linus in a way she's never been able to do with anyone before. As their friendship deepens and her recovery gains momentum, a sweet romantic connection develops, one that helps not just Audrey but also her entire family.
________________________________________________________________________________________________
Marketing is a tricky thing no matter the product. The marketing for this novel is to blame for a low rating on an author whom I usually love to bits. To fully explain we must go all the way back to Madeline Wickham. That was the name Sophie used when she first began writing paperback romance novels. A few years into this, she decided to use her real name because she was changing direction with her writing. She began to write comedy chick-lit romances and they were hilarious, awesome and much beloved by yours truly. Sophie's been writing her comedies for a while now and as a writer has decided to change course again. Not only does she change course, she jumps from adult into the young adult genre. In my opinion, Sophie needed to change her pen name again for this new direction.
The problem with Sophie using her comedic author's name, AND advertising herself as the Shopaholic Series author is that Finding Audrey is NOT a funny novel. It's a serious look at what a mental breakdown looks like after a teen suffers horrible bullying at her high school to the point where the perpetrators are expelled and Audrey ends up in a mental hospital for a bit. Our story starts with Audrey much better and at home, but unable to leave home, unable to remove her dark sunglasses and unable to speak to anyone via phone or in person who is not in her immediate family. Borderline Agoraphobic, Audrey's story is not the stuff of comedy.
If you are going to market a serious young adult novel by telling readers, "She wrote the hilarious Shopaholic Adult series!" there is no comparison to be made between the two! If you liked one, as I do, then chances are you might not love the second - BINGO! that's me. I was expecting comedy. I was expecting light-hearted fare and instead got a mouthful of an honest look at a teen's struggle back into normalcy. Would I normally read this type of book in young adult? Nope, but if I knew Sophie had changed her name and was trying something new I might give it a swing to see what it was like - but NOT with the preconceived notions I originally had.
Wow, that was a long gripe about marketing, but it is elemental to my low rating.
The second reason this novel failed to charm me was the plot. Sophie did some great research into Audrey's condition, and handled it with kid gloves to the point where it felt a bit glossed over. In fact, after Linus comes on the scene, the plot was predictable, safe and sadly a bit flat. I would classify this book as light young adult - or super "young" adult. This is a genre that holds a wide spectrum of light teen angst to darkest depths of bloody despair and Finding Audrey is at the lightest end - not normally my hang out zone.
As a reader I still want Sophie to write more amazing books to read, but I will be very cautious if they are more young adult versus her common sparkling ground of comedic adult fiction success.
Miss Gevious

Fri, 06/26/2015 - 15:02