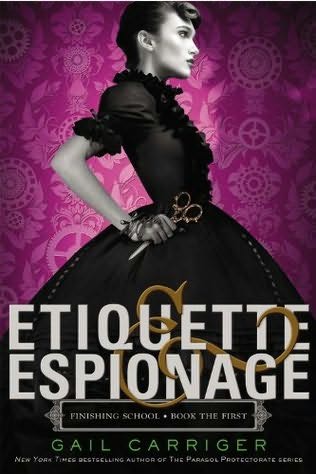 Publisher:
Little, Brown and Company, 2013
Synopsis:
BOOK ONE: FINISHING SCHOOL SERIES. Fourteen-year-old Sophronia is a great trial to her poor mother.  Sophronia is more interested in dismantling clocks and climbing trees than in proper manners-and the family can only hope that company never sees her atrocious curtsey.  Mrs. Temminnick is desperate for her daughter to become a proper lady.  So she enrolls Sophronia in Mademoiselle Geraldine's Finishing Academy for Young Ladies of Quality.
But Sophronia soon realizes the school is not quite what her mother might have hoped.  At Mademoiselle Geraldine's, young ladies learn to finish...everything.  Certainly, they learn the fine arts of dance, dress, and etiquette, but they also learn to deal out death, diversion, and espionage-in the politest possible ways, of course.  Sophronia and her friends are in for a rousing first year's education.
---
First let me point out - AMAZING COVER!  It completely drew me in and interested me in the premise of the book.  And what a book!  Our main character is resourceful, inquisitive to the point of reckless but she draws on her friendships to help her remain under the ever-watchful radar of teachers and mechanical guards. 
This book is a delightful dump of adventures done in layers of petticoats which are great for concealing mechanical wiener dogs.  I loved the creativity of the school setting itself, the unique names of characters (Barnaclegoose, Frowbritcher..best be careful with that one!) and the many antics of Sophronia.
The pacing was a nice zippy, skipping stones on water speed and Sophronia herself not to mention her friends and the colourful faculty of the school were each a distinctly memorable character.  I highly look forward to the rest of this series!
Where this book failed to hit the target of a perfect rating with me was a complete lack of romance.  All that was missing in this novel was some romantic spice.  This book was all adventure and coming of age so where was our first crush or scandalous stolen kiss with a dashing somebody?  There is a vaguely hinted interest, but it is so ghostly as to not be present for what it's worth. 
A well-written escapade that will leave a sparkle in your eyes-if you love historical time period female spymaster books as I do, this is a good bet for you!
Miss Gevious

Sun, 04/06/2014 - 16:21