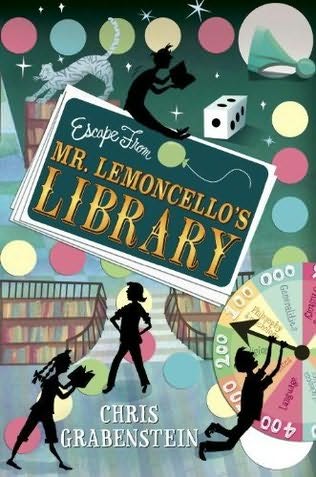 Synopsis:
Kyle Keeley is the class clown, popular with most kids, (if not the teachers), and an ardent fan of all games: board games, word games, and particularly video games. His hero, Luigi Lemoncello, the most notorious and creative gamemaker in the world, just so happens to be the genius behind the building of the new town library.
Lucky Kyle wins a coveted spot to be one of the first 12 kids in the library for an overnight of fun, food, and lots and lots of games. But when morning comes, the doors remain locked. Kyle and the other winners must solve every clue and every secret puzzle to find the hidden escape route. And the stakes are very high.
---
I knew this book would be good for a variety reasons.  My 'reluctant reader' 10 year old daughter told me I 'had to, had to, HAD to' read it and it was rated in the top ten books of 2013 at Goodreads.com.  In addition, the synopsis of the book about a class clown popular with the kids (not so much the teachers) felt like familiar ground for me...nuff said.
Pun intended, the author's last name of Grabenstein is a great one for his style of reading which 'grabs' you.  This is an adventure novel with action that makes it hard to put down.  In addition, there are mind-teaser puzzles to try and sleuth on your own before reading further and finding if your answer was correct.  The other intelligent twist to it all is a good look at the Dewey Decimal system and the general classifications it is organized into without being totally boring - which is easily done with Dewey. 
In reading this book kids have a good time playing games along with the characters, they learn a bit more about the library non-fiction section and it's a fun, colourful tale.  For me as a parent there was an added bonus round - a lesson in playing fair and keeping it clean. 
When I look back at my own growing years, I felt a certain responsibility by the adults in my world that my generation would be the one to 'clean up the environment' and be 'environmentally friendly' with something simple such as, "Don't let the water run when you brush your teeth".  With a major focus now on bully training in school, how to be aware of cyber bullying etc.  I think the newest generation of youth are being given the mantel of 'good morality'.  This book gives great examples of good morality and choosing to be good in the face of others who make opposite choices.  I liked this group of characters for their innate goodness and the example they provide any young reader.
Overall this is a snappy, fun, little number I highly recommend as a reader and as a parent AND the setting is in a super cool library, talk about a win win!
Miss Gevious

Mon, 01/27/2014 - 15:02