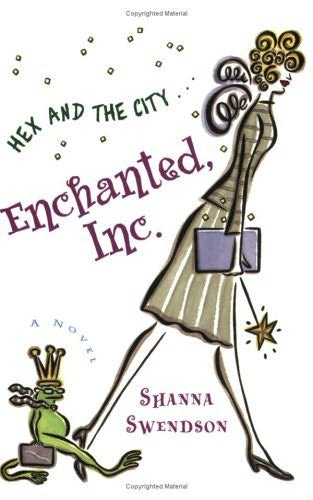 Synopsis:
BOOK ONE: KATIE CHANDLER SERIES.  Katie Chandler has always heard that New York is a weird and wonderful place, but this small-town Texas gal had no idea how weird until she moved there.  Everywhere she goes, she sees something worth gawking at and Katie is afraid she's a little too normal to make a splash in the big city.  Working for an ogre of a boss doesn't help.
Then, seemingly out of the blue, Katie gets a job offer from Magic, Spells, and Illusions, Inc., a company that tricks of the trade to the magic community.  For MSI, Katie's ordinariness is an asset.  Lacking any bit of magic, she can easily spot a fake spell, catch hidden clauses in competitor's contracts, and detect magically disguised intruders.  Suddenly, average Katie is very special indeed.
She quickly learns that office politics are even more complicated when your new boss is a real ogre, and you have a crush on the sexy, shy, ultra powerful head of the R&D department, who is so busy fighting an evil competitor threatening to sell black magic on the street that he seems barely to notice Katie.  Now it's up to Katie to pull off the impossible: save the world and - hopefully - live happily every after.
---
Once, when my son was quite young, he wanted something very badly and was jumping on the spot to get it right away.  To remind him of his manners I asked him, "What's the magic word?" he responded with a loud, proud, exuberant, "Abra-ka-dabra!"  Technically he was correct, and though it made me laugh, it didn't carry the same reward as, please.
I've been on a bit of a kick lately reading books laced with a touch of magic and this series promises to be a good one.  I loved the light touches of magic here.  It's not a full blown magical world with magical people and magic spells flying out of finger tips, this is a regular girl working in regular New York - except her coworkers are comprised of a group of fairies, her boss an ogre and the president of the company is an old, kind man named Merril (he's actually Merlin but that's on the hush, hush).
And let's not forget the budding romance with Owen.  This is a relationship that is going to be slow to develop from friendship into something more and that makes it much more sweeter for us as readers.  We really get to know Katie and Owen as people and root for them every tentative step they take towards each other.
The writing itself is efficient and the dialogue kept realistic.  You won't find yourself skipping paragraphs to keep the pace where you'd like it either so this is a well-edited and sharply written story for us.
This book and it's characters stayed with me well after finishing the last page.  The second book has arrived at the library and it feels like Christmas Eve to know it is waiting for me to go and pick it up tomorrow.  I can hardly wait to walk the days with Katie and Owen some more.  
Miss Gevious

Fri, 07/04/2014 - 21:46