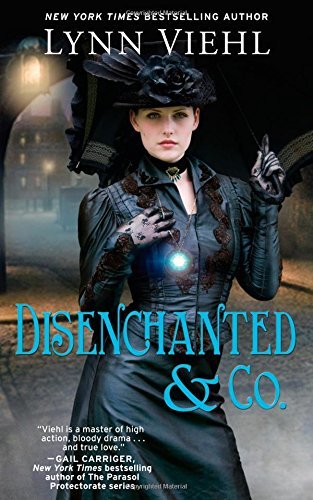 Synopsis:
In the Provincial Union of Victoriana, a steampunk America that lost the Revolutionary War, Charmian "Kit" Kittredge makes her living investigating crimes of magic. While Kit tries to avoid the nobs of high society, she follows mysteries wherever they lead.
Unlike most folks, Kit doesn't believe in magic, but she can't refuse to help Lady Diana Walsh, who claims a curse is viciously wounding her while she sleeps. As Kit investigates the Walsh family, she becomes convinced that the attacks are part of a more ominous plot - one that may involve the lady's obnoxious husband.
Sleuthing in the city of Rumsen is difficult enough, but soon Kit must also skirt the unwanted attentions of a nefarious deathmage and the unwelcome scrutiny of the police chief inspector. Unwilling to surrender to either man's passion for her, Kit struggles to remain independent as she draws closer to the heart of the mystery. For the truth promises to ruin her life - and turn Rumsen into a supernatural battleground from which no one will escape alive.
_________________________________________________________________________________________________
This book was recommended by author Gail Carriger whom I absolutely love as a writer. I am still learning all the different nuances of steampunk and can now add this series to my list.
What I liked about this book was how the relationship between Kit and Lucien (the aforementioned deathmage) stayed with me and how I wanted to read more about them and/or any adventures they have together. Full points to Lynn on writing a feisty but fun relationship.
The pacing of Disenchanted & Co was perfect. There were no points when I felt the pages lagging or going too quickly - which would have been easy given all the ground she covered plot wise. Kit turns a complete 180 from being a debunker of those who practice magic to one who not only believes but also works a bit of it herself in the end. It's an interesting journey - one you'll want a front row seat in.
Where this book fell a bit for me from a perfect rating was the initial scene where Kit gives in to Lucien's advances. After setting up the immense dislike/hatred that Kit has for Lucien it needed some coaxing to bring it round to her admitting deeper feelings as opposed to how quickly the character gave in.
The paranormal/fantasy element in this steampunk setting worked well. It became slightly convoluted and complex as the story built up steam so watch for that. But otherwise, the elements complimented each other and we're set up for a long series to come (I hope!).
Miss Gevious

Mon, 04/27/2015 - 13:44