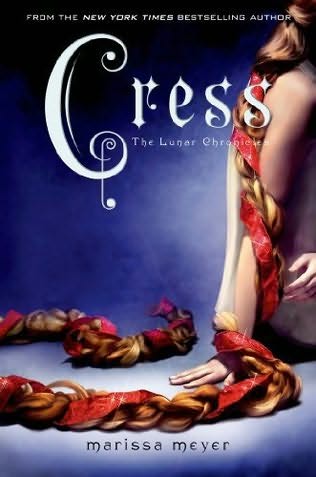 Synopsis:
BOOK THREE: THE LUNAR CHRONICLES.  Cinder and Captain Thorne are fugitives on the run, now with Scarlet and Wolf in tow. Together, they're plotting to overthrow Queen Levana and prevent her army from invading Earth.
Their best hope lies with Cress, a girl trapped on a satellite since childhood who's only ever had her netscreens as company. All that screen time has made Cress an excellent hacker. Unfortunately, she's being forced to work for Queen Levana, and she's just received orders to track down Cinder and her handsome accomplice.
When a daring rescue of Cress goes awry, the group is splintered. Cress finally has her freedom, but it comes at a higher price than she'd ever expected. Meanwhile, Queen Levana will let nothing prevent her marriage to Emperor Kai, especially the cyborg mechanic. Cress, Scarlet, and Cinder may not have signed up to save the world, but they may be the only hope the world has.
---
Life outside of the pages of Cress is like molasses - thick, slow and unimportant because once you open the cover of this book adventure takes hold of you like lightening.  It flashes before you in unexpected places that make you gasp, blink with wonder and thrill for where it could possibly appear next!
If like me, you've been counting down the days to the release of this third novel in the Lunar Chronicles series the pages will, in fact, fly.  As I was reading you could hear me exclaim, "Oh no!  How will they - what!  Oh my gosh!  But he's - look out!  Now what will they do?"
I absolutely love that author Marissa has been able to keep the same intensity and amazing plot twists three books in a row.  Bravo to a consistent talent that has not wavered or meandered from initial success.  This is a fantastic tale that should, by all accounts, be a complicated read but is not.  All the characters from books one and two are in this third novel along with some new characters - that alone should give any reader a headache to keep everyone straight and wouldn't it make sense with that many characters some would bleed into others or seem similar?  And yet, it's no where near a headache but a joy and no two characters could possibly be confused because they have been written with such clarity it would be impossible to mix them up.
I loved the modern spin on Rapunzel out of her tower, sequestered in a satellite for years that orbits and watches the earth.  I love the strength of the characters and their individual bag of flaws.  I love that this was every bit as good a read as I had anticipated and last but never least, I love that this is a series both my daughter and I adore together.
Vive the Lunar Chronicles, I hope there are many more books in this series!
Miss Gevious

Wed, 02/26/2014 - 15:17