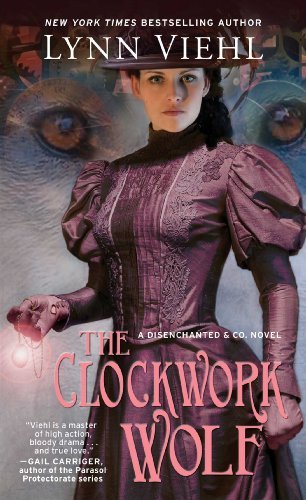 Publisher:
Simon & Schuster Inc, 2014
Synopsis:
Doing a favor for deathmage Lucien Dredmore, Kit agrees to interview a newly widowed lady as a potential client. upon meeting, however, she learns that the woman in question is none other than Lady Eugenia Bestly, president of the Rumsen Ladies Decency Society-someone who once led a vicious campaign to ruin Kit's life. Ironically Lady Bestly now lives in fear herself, for the press is about to unmask her husband as the savage "Wolfman" who died while terrorizing the city.
As monstrous rampages continue to occur, Kit soon determines there is more than one Wlofman, and that they may themselves be victims of evil players. While avoiding both mechanized assassins and attempts by Dredmore and Chief Inspector Tom Doyle to take her under their protection, Kit follows a tangled path that leads from a prestigious gentlemen's club fronting a hellish secret to a vengeful native tribe and dangerous, ancient magics.
_________________________________________________________________________________________________
SPOILER ALERT: IN THIS REVIEW I UNABASHEDLY GIVE UP SOME OF THE GOODS...
Call me crazy but second books in series often feel waftish to me. After a first good book takes off like a cannon's BOOM! a second installment can feel like the wafting smoke from that cannon ball and not quite as satisfying or as impressive. The Clockwork Wolf was sadly waftish for me.
In book one, we establish Kit as the supreme independent single woman. She is strong, she is stubborn and she is smart. At the same time, her heart is pulled in two very different directions. We'll call them Team Dredmore and Team Doyle. I was Team Dredmore from the start and still am. It seemed in book one, as though Kit was leaning permanently to Dredmore, but in book two she changes directions and slides just as easily into the arms of Doyle. This burned a bridge with me as a reader for two reasons.
1. It's fine if you want to play up both sides, both men, both their pros and cons. But these are serious minded men with no lean towards sharing their favored lady. I felt it disrespected how Lynn had set these two men up for us as readers to have Lynn share bedsheets (or prickly bushes) with both of them.
2. Kit's independence in book one became an eyeball rolling party for me in book two. Her stubbornness lent itself into silliness when Kit's life was in obvious danger and she still pushed viable protection to the side like it was a trifling matter of no importance. If we, as readers, are to believe in Kit as a character, we have to see some kind of softness in her somewhere. She is kind to everyone which demonstrates great compassion, but in this case, I would have liked to see her accept Dredmore's help - it would have been the intelligent thing to do by an obviously intelligent character.
The mystery plot was well crafted and the pacing kept time to it well. I enjoyed the creativity behind the animech (animals constructed from mechanical parts). It's a solid story, but the last little irkiness I had was a general feel of unflinching gaudiness. I realize quite well this is adult fiction and there are no holds barred when it comes to content, but I felt the White Lupine club that Kit visited as well as the idea that random women were being violated by the Wolfmen to create an army was dark stuff. I'd love to see this series continue with it's same mystery components, but throwing a little sunshine into it wouldn't hurt, and it would keep me coming back.
Miss Gevious

Mon, 06/01/2015 - 12:37