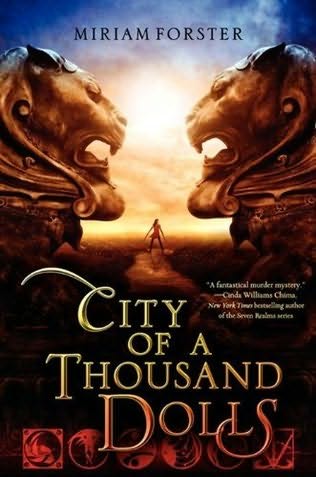 Synopsis:
BOOK ONE: BHINIAN EMPIRE SERIES. The girl with no past, and no future, may be the only one who can save their lives.  Nisha was abandoned at the gates of the City of a Thousand Dolls when she was just a little girl.  Now sixteen, she lives on the grounds of the isolated estate, where orphan girls apprentice as musicians, healers, courtesans, and, if the rumors are true, assassins.  She makes here way as Matron's errand girl, her closest companions the mysterious cats that trail her shadow.  Only when she begins a forbidden flirtation with the city's handsome young courier does she let herself imagine a life outside the walls.  Until one by one, girls around her start to die.
Before she becomes the next victim, Nisha decides to uncover the secrets that surround the girls' deaths.  But by getting involved, Nisha jeopardizes not only her own future in the City of a Thousand Dolls - but also her life.
---
First, take a second look at that great cover.  The cover was the main reason I ordered this book.  It is colourful, promises some creative, magical forces and look at that strong girl standing in the light.  She is warrior ready to face it all....Without having read the synopsis I thought this was a junior fiction novel because the colours are light in nature so I ordered this book initially for my daughter to read.  But murder lurks in these pages and so the cover that prompted my interest now draws my criticism.  With a three murder novel you really should have a cover that depicts the undertones of fear and confusion not to mention some angry colours of frustration as Nisha tries and tries to catch our elusive killer.  This cover does not depict the story it represents.  And the title as well - The City of a Thousand Dolls sounds like a junior fiction novel - dolls, right?  Uh, nope on that score too.
If you forget the misleading cover and title, this isn't too bad of a tale for your time.  Personally I don't seek out murder based novels but it is written with tact and is not gory.  We form a pretty quick attachment to Nisha and she is a believable character as a whole.  Some loopholes I found regarded Nisha's unknown importance.  There were too many overheard conversations and obvious hints given to us that the twist at the end wasn't, well, twisty, if you know what I mean.
The romance factor hinted at in the synopsis was sadly bland where that chemistry needed to be sideline smoldering.
I'm sorry to say this wasn't a favorite read despite my early optimism.
Miss Gevious

Fri, 07/04/2014 - 16:27