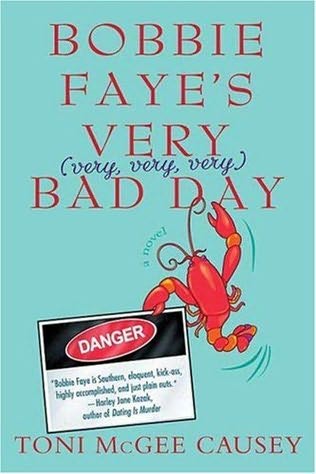 Synopsis:
BOOK ONE: BOBBIE FAYE SERIES.  Bobbie Faye Sumrall knows that a day without disaster is a day in someone else's life.  Criminals have kidnapped her good-for-nothing brother and are demanding her Contraband Queen tiara - the only thing of her mama's she inherited - as ransom.  So Bobbie Faye has to outwit the police, organized crime, former boyfriends, and a hostage she never intended to take (but who turns out to be damn sexy!), in order to rescue her brother, keep custody of her niece, and get back in time to take her place as Queen in the Lake Charles Contraband Festival (think Mardi Gras, with more drinking and pirates).  Luckily, Bobbie Faye knows how to handle guns, outsmart angry mama bears, drive a speedboat, and get herself out of-and into-almost every kind of trouble.  If only that pesky state police detective (who also happens to be a pissed-off-ex-boyfriend) would stay out of her way...
---
In the first few pages of this book I almost gave up and set it down for good.  With such a stellar rating from me, what was the initial problem?  Language.  Being a mother of impressionable youth, I don't swear.  Alright, let's be honest, sometimes you just have to and in those cases when little ears are present I have come up with my own versions such as, Sugar Shack! and Fridge Monkey Magnets!  Bobbie Faye, however, cusses a blue streak in front of her five-year-old niece who is living with her.  Luckily the niece goes off to school so it is adult ears only that are treated to her blazing vocabulary (it eventually slacks off as the story takes shape) but still, swear words are grounds for me to put a book away without reading further.
With nothing left on my to-read pile, I persevered with Bobbie thru the muck of her initial potty mouth and I'm so glad I did!  This book is FUNNY and reads like a comedy/action movie.  Boats are blowing up, there's daring escapades, a million tiny spaces you think she just can't squeeze through and keep going and the odds are stacked so high against Bobbie she's never going to succeed, and yet she does.  Hurrah!  
I love the small town feel of the story - EVERYBODY knows Bobbie and remembers every single scrape she's gotten herself into from birth to now.  Things are blown out of proportion regarding her lack of luck and it's fun watching high powered men like the state governor trying desperately to stay out of her way.  They also have a town parade and fair each year of which Bobbie is the Queen so the general towns people both fear Bobbie's wake of unintentional destruction and revere her as their local prized queen.
This book is more than merely amusing it is the true embodiment of 'entertaining'.  Witty and sharp, cool under constant pressure and living up to everyone's expectations of having the worst that could happen to her, happen, Bobbie's adventure is a wild ride you don't want to miss.  I highly recommend this first book in the Bobbie Faye series because the words of this book form a field of comedy gold, you just have to watch out for those cussing cow patties.
Miss Gevious

Sat, 07/19/2014 - 14:02