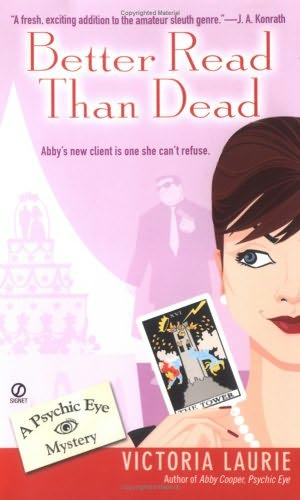 Synopsis:
BOOK TWO: PSYCHIC EYE MYSTERY SERIES.  It's autumn in Detroit, and psychic intuitive Abby Cooper is falling to pieces.  She was about to nestle into her cozy, almost-renovated new house-and into the arms of FBI agent Dutch Rivers.  Then, faster than you can say trick or treat, her plans fell apart with one phone call...
As a favor for a friend, Abby agrees to read tarot cards at a wedding and finds herself predicting the future for some very shady guests.  Word of her talents reaches a Mob boss who wants her help in some business matters, and he doesn't take no for an answer.  then the police seek out her psychic intuition to shed light on a masked man who's been attacking women, and Abby's working for both sides of the law.  With all of Dutch's time going to a big FBI case and his sultry  new partner, Abby's on her own, leading her to wonder: Why didn't I see this coming?
---
This book is a zinger!  I enjoyed the first book in this series, Abby Cooper: Psychic Eye, but this second book had me sitting on the edge of my seat.  I loved the ramped up intensity and how delicately Abby had to tip toe her way through all the plot twists.
This book reads like a ride at an amusement park.  At first you are sitting in your roomy car sliding left or right quite predictably until-What the! you are jerked to a 90degree uphill climb and from there it's anybody's guess which direction you'll go next. 
As a somewhat seasoned reader, I can see when certain hints are being made and in this case, thought I had a few things neatly packed away to expect at the final conclusion of the book, but I was totally wrong on a few key ideas-what a nice surprise!
If you are looking for a fun, fast-paced weekend paperback escape, this book will fit that bill to a tee.
Miss Gevious

Thu, 03/13/2014 - 14:54