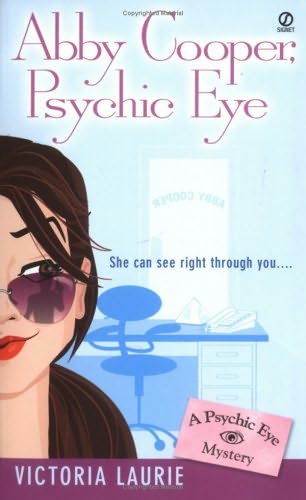 Synopsis:
BOOK ONE: PSYCHIC EYE MYSTERY SERIES.  In Royal Oak, a suburb of Detroit, thirysomething Abby Cooper lives a life that's kind of like vanilla ice cream-good enough, but a little bland.  Her work as a P.I-Psychic Intuitive-can be rewarding, but she feels like somehow she's missing out on the hot-fudge topping...
Now she's getting what she wished for-when a client winds up dead and the clues start pointing in Abby's direction.  Turns out she knows too many details about the murder for her own good.  To make matters worse, the hot blind date she just met is the lead investigator on the case.  And gorgeous Detective Dutch Rivers is convinced she's a fraud.
No matter how great her psychic abilities, Abby doesn't know if she can solve this case.  Unfortunately for her, though, the killer thinks she can...
---
This author was a bit of a shot in the dark for me as I am not a super keen mystery reader, but the lure of a psychic private investigator and a little side dish of hot detective made me wonder if it might work out after all.  Yes it does, dear readers, it definitely does!
I knew nothing about the author as I started this book and was duly impressed with her research.  I am somewhat familiar with psychic stuff - not by personal experience but through reading much of famed psychic Sylvia Browne's books, particularly her two autobiographies.  It wasn't until I was half way through this first novel that I decided I would immediately order books two and three that I discovered the author, Victoria Laurie, IS a police psychic who helps with cases!  Talk about art imitating life!
With more than a little respect, I continued reading this novel with fresh eyes knowing everything of a psychic nature was being written first hand.  Neato bandidto, am I right?
Beyond the psychic aspect, the romance is sprinkled in little bits that promise more as the series continues and it's just the perfect (and light) amount.  They murder scenes were a bit gory but not long in description which kept the overall feel of this book not too heavy.  In fact, there are some moments of high comedy which are delightful and made me laugh - an important balance for readers.
Where this book failed to land my top rating is a bit fuzzy for me honestly.  I can't say I fell head over heels in love with any character which indicates I failed to make a connection with anyone.  At the same time, with this type of book I should have been sitting on the edge of my seat more often than just at the very tippy end of the novel.  Regardless of a top rating I must say I genuinely enjoyed this cross-genre book and certainly look forward to more in the series.
Miss Gevious

Sat, 03/08/2014 - 14:22